John Conte, Family Show Resilient Spirit
---
MORGANTOWN, W.Va. — Enough doom and gloom.
Yeah, times have been dark over the past few months, death and disease, unemployment, recreation limited, sports canceled.
But you know what, you make what you can make of it.
That's what John Conte, the former West Virginia center from the closing years of Don Nehlen's career as coach, and his wife, Kelley, have done and they were dealt a really tough hand.
We introduced you five years ago to their twins, Dominic and Anthony, 2 1/2 years old at the time.
At the time, we wrote about them. Dominic had just finished his first marathon, riding in a stroller and pushed by his father … a victory for … eh, the human spirit.
See, the Contes were blindsided at the birth of the twins. Anthony was a healthy, happy baby.
Dominic, it turned out, was a special needs child.
"When they showed me Dominic, right away I knew something was wrong," Conte remembered when we last wrote about the family.
Dominic spent the first seven weeks of his life in the hospital in Norfolk, Virginia, where he'd been taken after his birth in Virginia Beach, where the Contes reside.
They had no diagnosis and didn't have any for a few years until they figured out that he had a rare syndrome called Schaaf-Yang.
Conte estimates there are only 40 or so cases of it in the world, with a missing or defective gene being the cause.
"When the boys were born, we had no idea Dominic was going to have special needs. Life came on us really fast," Conte said. "I said to my wife, we are going to do the best we can do. We're not going to have any self-pity, we're not going ask why us? We are going to do the best we can do."
And that is what they have done.
"My wife is tremendous. She is the greatest wife and mother. I'm so proud of how she has handled it," John said.
And Anthony, the twin brother, has been a big part of the solution.
"He's a great brother. He really appreciates his brother and if there's one person his brother loves you can tell more than anyone else it's Anthony," Conte said.
Dominic is in school now and Conte says he's doing well.
"He's coming along. He's getting bigger. You can see he understands things," Conte said. "He doesn't talk, we're working on different communications with eye gaze and things of that nature. He's a good boy and he has brought a lot of joy to everyone he's around."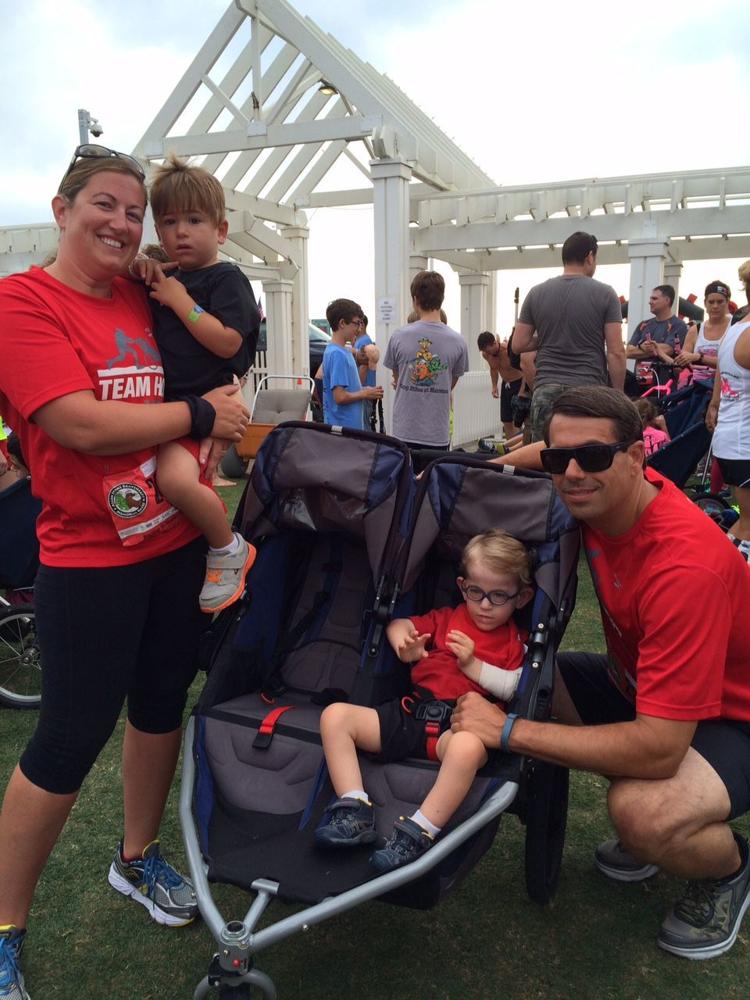 The kids in the school and the neighborhood have accepted him.
"Years ago, if kids were different, it could be hard on them. I think kids are kinder today," Conte said. "We took a walk around the neighborhood, I pushed him in his stroller and Anthony was on his bike, and there were a couple of kids from a new family that had moved in. The girl is in Anthony's class and the son is a couple of years younger. These two kids came up and said 'Hi, Anthony. Hi, Dominic.' That's really nice."
Sometimes raising two children, one with special needs, forced parents to walk a tightrope for they are pulled in opposite directions, but Conte and wife, Kelley, have found that love conquers all and have managed the balancing act.
Anthony is now playing football.
"I wanted to coach to make sure in my mind and my wife's mind that things are getting taught the right way, not just for Anthony but for all the kids on his team," he said. "I was the defensive coordinator and he was on the defense. It's tough watching your son play because, as a defensive coordinator I found it hard to watch any other kid. I wanted to make sure he was doing the right thing."
Anthony also wrestles, which makes it easier for Conte to keep an eye on him but, he admits, seeing him out there all alone "makes my knees weak."
He and his family, though, have proven that a strong heart overcomes everything, even weak knees.