MORGANTOWN, W.Va. — The other day the NCAA cleared the way for Division 1 football programs to begin having voluntary drills and the Big 12 decided football players could return to campus on June 15, which is a hesitatingly small first step toward ordaining that football will be played in the fall.
It left open the possibility that, should the coronavirus pandemic flare up again, they could push the season back or not play it at all. It also offered a significant signal they mean to play the game in the fall if possible.
West Virginia Sen. Joe Manchin knows something about having football taken from you, for he was once a promising scholarship player back in 1965. As such, he looks at the situation as it is developing today from a rare point of view for a senator, as one who attended his state university on a football scholarship.
In an exclusive interview, Manchin admitted it would hard to imagine a fall without football in West Virginia but he maintains they can't rush into anything or gamble with the players' coaches and staff's health, to say nothing of the fans who pack Mountaineer Field on Saturdays.
"I'll give you my two cents on this thing," he said. "It's a contact sport. We have to have testing. We should be testing any athlete we know you cannot separate, especially football. Everyone should be tested. Tested for the coronavirus and antibody tested. We should know where every athlete is and we should do it on a daily basis. We can make this work."
But even with testing there's a way to go before you can play games.
"As far as opening this back up, that's yet to be determined," Manchin said. "But as far as being able to practice, there's a safe way to do it. You can now test and get rapid results — same time testing — that's feasible and there's money to pay for it now."
There are some states where they could away without a football season, but football is part of the soul of West Virginia, Manchin believes, especially WVU football.
"We don't have a professional team in the state of West Virginia. West Virginia football, with the name of our state, with the colors of our state, it means everything. It brings the whole state together," he said.
"Marshall has done a great job, but WVU is West Virginia University. It is our state college. It is our team that we rally around. Those people who are alumni of other schools but now in West Virginia, I know they are rooting for our state college and our state team."
He looks back on what it meant to him as a child.
"I never had a doubt where I would go to school and play when I was a little kid. I remember clear back to 1954 when I was seven years old, my dad used to take all of us to see Sam Huff play at WVU. Joe Marconi, Fred Wyant, all of them.
"I had all their pictures on my wall. That's just how I grew up."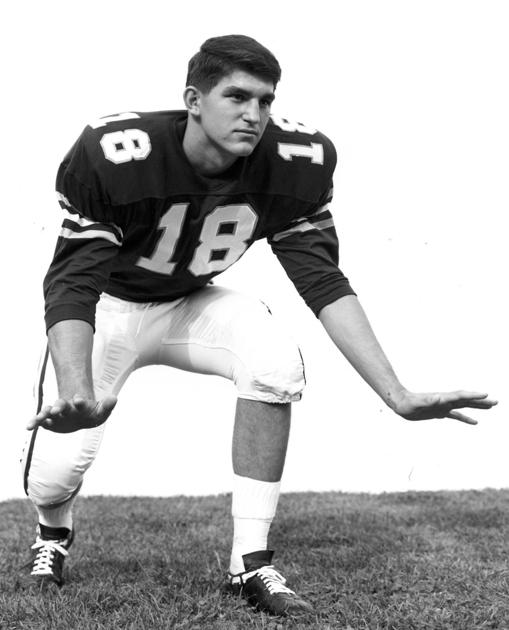 He and so many other young West Virginia kids, dreaming of playing at the state school.
"Then in high school, I had some big shoes to fill. Gunner Gatski went to school there and he was an All-American and All-Pro with Cleveland, Sam Huff, All-American and All-Pro. We had some great athletes come out of that little school," Manchin said.
"I didn't know if I was good enough. I always felt I could have done better, I'm sure, but I always worked as hard as I could," he continued. "We didn't have a lot of training back then. Whatever you had natural, that's what you had. I had a real good junior year and a pretty good senior year, too, and offers started coming in."
There was only one offer that mattered, though.
"I'll never forget, one school wanted me to come visit and I told them I really appreciate it but I only want to go one place and I don't want to waste your time or cost you any extra money thinking I might go there. WVU is the only place I want to go," he recalled.
Gene Corum was the WVU coach at the time and he would come with Galen Hall, who later coached at Penn State, to watch Manchin at Farmington High.
"At that time you had Eddie Pastilong and Allen McCune at quarterback and they were drop back passers," Manchin said. "We ran the single wing until my senior year in high school, when we put the T formation in with it. We were doing the Wildcat before the Wildcat even came along. That's a single wing, by God."
WVU offered him a full school and he said it was "one of the greatest thrills of my life."
He came to Morgantown as a freshman and says he did pretty good but the next year he suffered a devastating knee injury the week before the Blue-Gold game.
Get all of our print editions with your subscription today!
"It was down at old Mountaineer Field and it was raining so hard that they had to hold the ball up because if they put it down it would float away. It was crazy," Manchin recalled with a laugh.
Jim Carlen had just come in to take over Corum and he brought a new staff with him.
"I'll never forget, I'm down there one day and here comes a guy in red station wagon and he had four or five kids in the back of it and pretty little wife," Manchin said. "His name was Bobby Bowden and he was going to be my quarterback coach."
Manchin worked his way into a position where he felt he might have started in the Blue-Gold game and maybe even been a starter in the 1966 season as he offered up a different look at the position.
There certainly was a spot for him as the team went only 3-5-2 in Carlen's first year and they threw the ball only 96 times all season, so Manchin was definitely going to be auditioning in that Blue-Gold game.
"I always ran options. I told coach, 'I'm not a drop back thrower. I'm not going to stand back there and let people take pop shots at me. They're going to have to catch me,'" he said.
Well, on the slick muddy field they did, two of WVU's better defenders – Baker Brown and John Mallory – hit him high and low on an option to the left.
"I juked and I shaked but when I was on the ground I looked and me foot was pointing off to the side and my knee was really messed up," Manchin said.
West Virginia did not just get rid of Manchin, though. They honored his scholarship and he was trying to make a comeback after the reconstructive surgery, even though he could not pass the physical.
"One day we were out warming up. The punters were out there and I was catching it for them and punting it back but I was punting it 10 or 15 yards further than they were," Manchin said. "They said they were going to take me as the backup punter and I said haven't passed the physical and they said, 'We'll worry about that when we get to it.'
"So I got to travel with the team and I enjoyed that but my father's furniture store burned down in November of 1968, so I left school and went back helped him get started again before coming back to school and finishing," he said.
His career as a football player was over but the friendships still last. He is close with his od roommate, Joe Pendry.
"He got hurt in the Virginia Tech game, right about when I had my knee surgery, and we were in the hospital together," Manchin said.
A few years later, in 1969, another player came out of Manchin's area of Marion County.
"Brother Saban," he said, using the name he reserves for now Alabama football coach Nick Saban, "graduated from high school and I said you need give this boy a scholarship and get him here. He was all-state in three sports, he's a straight A student. You need a guy like this in your program. All Nick Saban wanted to be was a player at WVU but they kept saying he's too small and all this."
Saban wound up at Kent State, served as an assistant at WVU in 1978 and 1979, before becoming one of the most successful coaches in college football history at Michigan State, LSU and Alabama.
"Well, I've said this before, if Nick Saban had come to school here and was an alumni he'd be the coach at WVU. I just know that. But I couldn't get him in here and I tried everything," Manchin said. "But they're in good hands now, though. I feel good about Shane Lyons and Neal Brown and Gordon Gee has my total support."