The civil discord that has touched many aspects of the U.S. society in recent weeks has now reached the West Virginia University football program.
Mountaineer sophomore safety Kerry "K.J." Martin posted a lengthy Twitter stream Tuesday morning voicing his discontent with various situations within the football program, specifically revolving around WVU defensive coordinator Vic Koenning, who is also Martin's position coach.
"I myself have dealt with mistreatment and racism growing up in West Virginia, but I never would've thought I would deal with it while at a school I'm supposed to be able to call home with my position coach, Vic Koenning," tweeted Martin, who is a native of Charleston, West Virginia. "Starting back to Spring Ball 2019 before guys started to transfer, Coach Vic has antagonized Derrek Pitts for believing in something that he didn't believe. He would make remarks about the Bible and talk about religion in front of Derrek (who transferred to Marshall in the summer of 2019), making him want to question the things he believed.
"Dating back to April of 2019 when coaches were on the road recruiting, he visited my old high school (Capital High) and had a conversation with my coach. I was not told anything that was said in the conversation but my coach did tell me that my position coach had a 'Slave Master' mentality based off the conversation that was had and my old high school coach is a Caucasian man.
"In the month of June (2019), three weeks after we reported back to campus for summer workouts, I had my first incident with him after a mistake I made on the field that he called me retarded for doing the wrong technique. I have family members that are actually mentally ill and for him to say that hurt me because it was an action we could fix, especially in that situation because I never was taught what to do in that situation I was in."
Martin went on to say that he had addressed some of those issues with head coach Neal Brown, but did not detail what was said in those meetings or if any action was promised or taken.
"I have had meetings with coach Brown himself about that mistreatment that I have received from Coach Vic," Martin continued in his Twitter thread. "During the camp of 2019 we usually had a walk thru practice before our actual practice to go over the things we will be doing that day. As we were finishing the walk thru Coach Vic tells us 'everybody get in the house and upstairs for the meeting.' In our position meetings we talk about life a lot and (he) rants about politics. During the 2019 season he was talking about President Trump and how he should 'build the wall to keep Hispanics out (of) the country' and there's a Hispanic in the position meeting."
Martin did not name that player with a Hispanic background.
Martin continued with more allegations concerning his interactions with Koenning, stretching through the 2019 season and into 2020 summer activities.
"Also during the season he found out that I have converted my religion," Martin said of Koenning. "He has also (given) me a book about how to find Christ and has even read me scriptures out of his FCA bible. The most recent incident with Coach Vic was in our position meeting on June 22, 2020 when Coach Vic tells us about the conversation he (had) with his son about the rioting and protesting and his exact words were, 'if people did not want to get tear gassed, or pushed back by the police then they shouldn't be outside protesting.' I then spoke up instantly and asked what he meant by that and he couldn't give me a straight answer. Our Graduate Assistant Coach then steps in and says, 'guys we're not doing this right now we need to get back to football' to defuse the situation from escalating."
The GA, who is unnamed by Martin, then had more interactions with Martin via separate text messages.
"The Graduate Assistant texts me during the meeting (you can see what he says in the next picture) justifying for him so things don't escalate," Martin said in his Twitter feed.
---
Screen captures which Martin says are from the unnamed GA: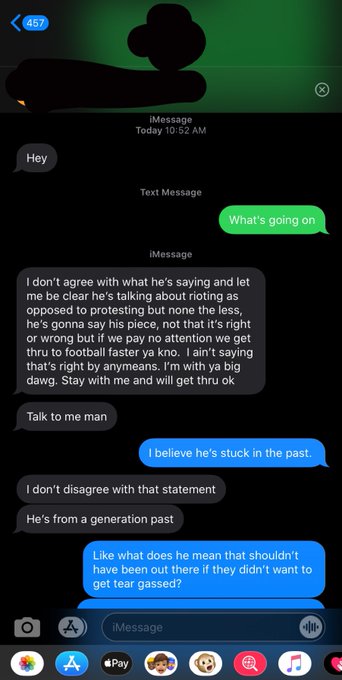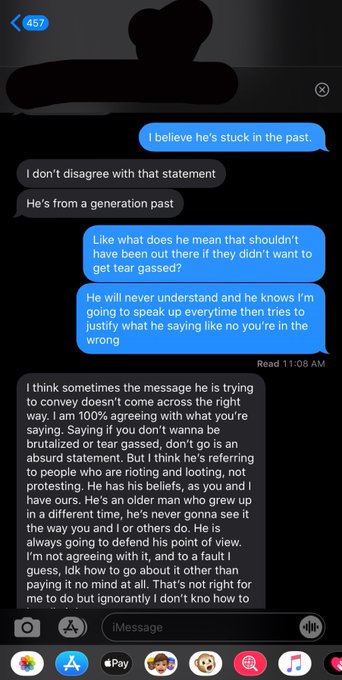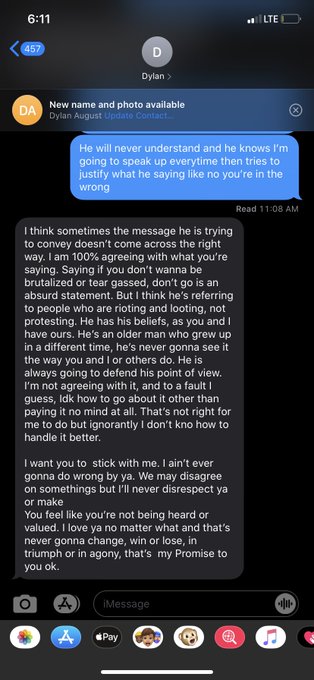 "I don't agree with what he's saying and let me be clear he's talking about the rioting as opposed to the protesting but none the less, he's gonna say his piece, not that it's right or wrong but if we pay no attention we get thru to football faster ya know. I ain't saying that's right by any means. I'm with ya big dawg. Stay with me and (we'll) get thru ok," read the message from the unidentified texter. "Talk to me man."
"I believe he's stuck in the past," was Martin's response.
"I don't disagree with that statement," was the text Martin received back. "He's from a generation past."
"Like what does he mean that shouldn't have been out there if they didn't want to get tear gassed?" asked Martin. "He will never understand and he knows I'm going to speak up every time then he tries to justify what he (is) saying like no you're in the wrong."
"I think sometimes the message he is trying to convey doesn't come across the right way," was the reply. "I am 100% agreeing with what you're saying. Saying if you don't wanna be brutalized or tear gassed, don't go is an absurd statement. But I think he's referring to people what are rioting and looting, not protesting. He has his beliefs, as you and I have ours. He's an older man who grew up in a different time, he's never gonna see it the way you or I or others do. He is always going to defend his point of view. I'm not agreeing with it, and to a fault I guess, (I don't know) how to go about it other than paying it no mind at all. That's not right for me to do but ignorantly I don't (know) how to handle it better.
"I want you to stick with me," the replay continued. " I ain't ever gonna do wrong by ya. We may disagree sometimes but I'll never disrespect ya or make you feel like you're not being heard or valued. I love ya no matter what and that's never gonna change, win or lose, in triumph or in agony, that's my Promise to you ok."
---
Finally, Martin summarized his feelings and position, and notes that there have been issues with another unnamed staffer.
"After the initially position meeting was over Coach Vic then tells me to stay on the call and wanted to apologize and give clarity on what he said. No, coach Vic is not a bad person and he does mean well in many (different) aspects but his heinous actions towards us overrules the good things he had done and many of us are uncomfortable with being around him. My teammates and I have been dealing with these situations for a while and there (have) also been occasions with him and another staff member. I never spoke on it to the public and my teammates along with myself has wondered why he has not spoke up against racial justice (sic). I have not told anyone else this that is not my family member or involved with my family (before) because I didn't want to bring negativity to the program but with everything going on, for him to still act this way and feel okay with saying what he said is not okay. Enough is enough."
Martin, who played in all 12 games and started four of them as a true freshman in 2019, followed up with another tweet a short time later. "I'm just bringing light to a bad situation, I'm NOT doing any interviews because this is a personal issue and this has nothing to do with the program as a whole!"
West Virginia athletic department officials are expected to make a statement later Tuesday in reply to Martin's assertions but as of 3:30 p.m. that statement had not yet been released.