Emotions Strong As WVU Rowing Team Gathered For Final Time
---
MORGANTOWN, W.Va. — The emotions are still raw for West Virginia University rowing coach Jimmy King.
The 11-year veteran leader of the Mountaineer team still gets a catch in his voice, his feelings bubbling up to the surface, when discussing the effects of the cancellation of his team's season due to the COVID-19 pandemic and his team's final meeting.
"We had been preparing to travel to our annual spring training camp," King began, relating what has become an all-too-familiar tale in the collegiate sports world. "We were going to Lake Lure in North Carolina this year. Then the travel guidelines came out, but we were still allowed to train on campus. We made plans to train here and make it as normal as possible."
That, unfortunately, was just the first hammer to fall over a three-day period.
"That Wednesday to Friday things were changing by the hour. Friday we gathered the coaches together and decided to cancel our training camp, and we had a sense things were going to continue to change. We had to get into it and then figure out how to get the kids, especially the freshmen, home."
King related all this matter-of-factly, but when he began to describe the team's final get-together, the emotions came out.
"We gathered our team together last Friday, and not knowing if that would be last time we would be together, we gathered up some senior gifts and told them to bring their rowing gear. We told them we don't know if this is the last time we will be together as a team, but it might be, so we are going to let the seniors go out for a row today. And we told them they could stay out as long as they wanted."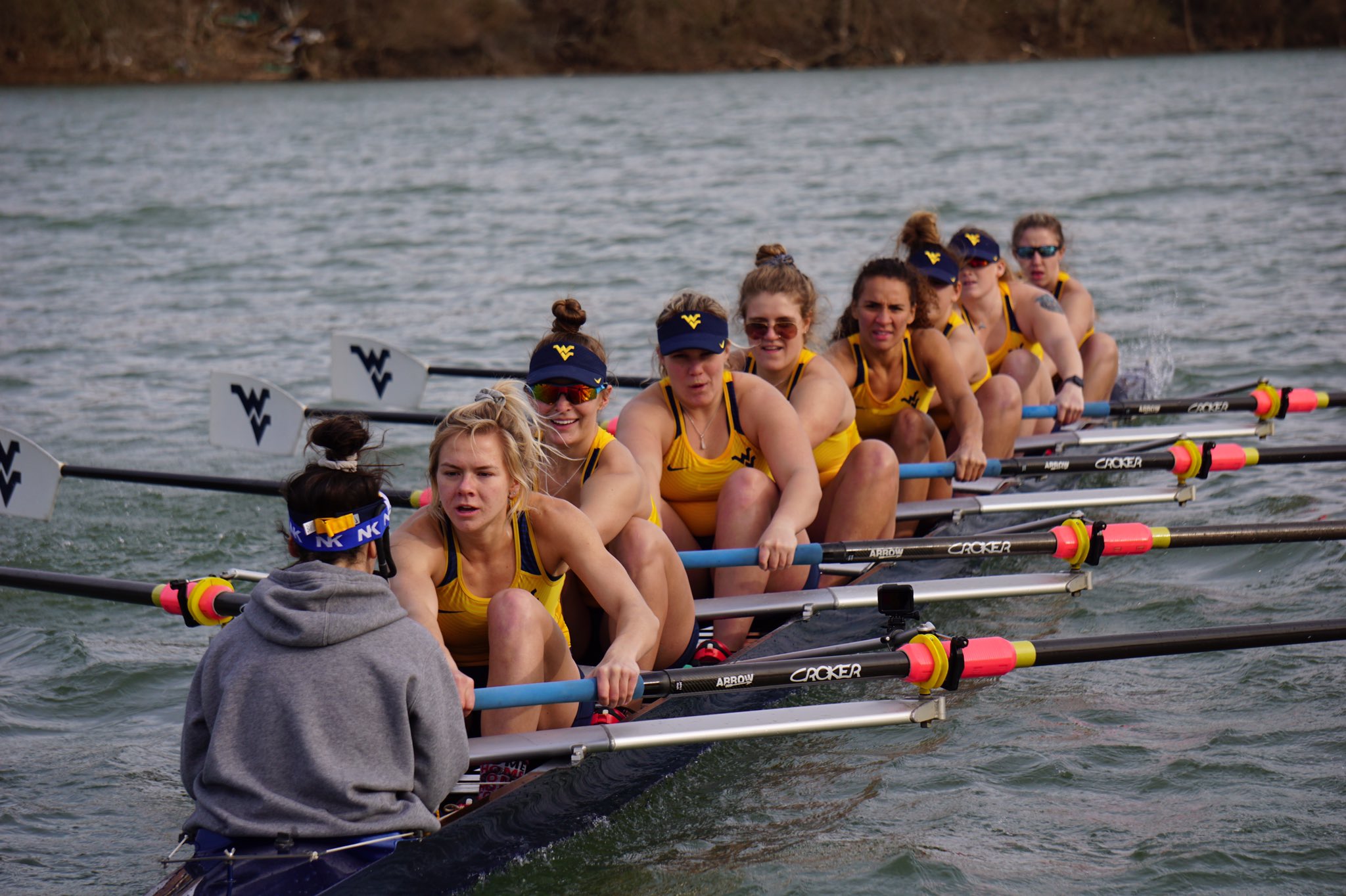 Thus it was that perhaps the last WVU athletic activity of the 2019-2020 school year took place on the Monongahela River, with ten seniors, dressed in their competition gear, taking final passes up and down familiar waters. While some of the participants could return under the NCAA ruling that spring sports participants will receive an extra year of eligibility, some likely won't return, as they already have the next steps in their lives mapped out.
"I haven't approached that with them yet," King said of those decisions, which are obviously momentous. "It's too soon for them to know what they want weeks or months from now. Once we get some more guidance, and let them know what their options are, then we'll start talking about them. We already have some that have jobs lined up, and I am sure they will proceed with that. We'll try to leave it all up them."
It was in describing that final meeting that King's emotions really came out.
"We know we didn't want this last opportunity to pass without bringing our seniors together," King said. "One of the juniors had written a speech for our end of the year banquet. She already had it done, so she read that. It was very emotional. Then our final thing with the seniors is they gather together with the team around them, and we sing "Country Roads".
One can't imagine the range of feelings pouring out at that moment.
Of course, the bonds created in most team atmospheres are tight ones. The shared experience of hard work and sacrifice usually serves to tie those together who are striving for a common goal. It may be, though, that those links are even more lasting for those who compete in sports that don't get much media attention or hype. Rowing, a sport that demands a lot of self-sacrifice and in return yields nothing in terms of a potential pro career or monetary remuneration, is definitely near the top of such groups.
"Rowing does fly under the radar," King said after noting he hadn't thought about that before the question was posed. "A lot of the satisfaction that we get comes from competing in front of family and friends – the ones that are there year in and year out. There's a great sense of reliance on one another. The thing that is different for us is that we don't have players trying to showcase themselves for pro careers. That's a whole different world."
King isn't upset with that notion. Instead, it provided him with an uplifting perspective.
"All of the emotions were there," he said of his team's reaction to the cancellation news. "To the credit of our student-athletes, they have been concerned about others more. One of our rowers commented about the gymnasts and that things were suddenly taken away from them, with no senior night, and not getting to host the Big 12 Championships.
"Our community here thinks about their fellow Mountaineers first. That doesn't surprise me at all," the Baltimore, Maryland, native continued. "When I first got here, I didn't get all that, but people kept telling me this place was different. I see it now."
Like many of those directly affected, King thinks he and his team are still in the early stages of dealing with the crushing end to the season.
"Honestly, I think we are all still processing. We went from travel restricted to suspended for two weeks to suspended until mid-April to cancelling the whole year. It's hard enough to process when your career comes to an end and you know it's going to happen. Coming to an end this way, it's so hard.
"Right now my mind goes back and forth between our rowing world and the world beyond. Our team is going to be fine, all the teams are going to be fine. The important thing is the communication. We're going to FaceTime and Skype individually and in groups. That eye contact makes a big difference. It's important to maintain that. I've talked to my team and we're going to do our best to maintain our community – the WVU women's rowing team."
Photos courtesy WVU Rowing