The hiring of Graham Harrell as West Virginia's new football offensive co-coordinator opens up several interesting angles for the composition of the Mountaineer staff and how they will work together.
Parsing of WVU head coach Neal Brown's statements in announcing the hire also yields some interesting topics for discussion.
In no particular order:
Neal Brown's role will shift slightly: Brown, who has been involved in game-day playcalling for the past few of seasons, didn't say that directly but putting together statements from the announcement (not to mention the accomplishments on Harrell's resume), it's pretty clear that Brown will focus more on the overall running of the program, while Harrell takes over the offense.
That doesn't mean that current offensive coordinator Gerad Parker is out, though. He will still be what Brown calls "the No. 2 lead in the offensive room," which apparently was his role, with Brown at the lead, last season, even though it was not spelled out as such on WVU's website or on any official descriptions emanating from the program. Reading between the lines – and it doesn't take much squinting – Harrell looks to be the offense's head man, with Parker in that supporting role, at least for now.
This is a big move for Brown, who has been the primary playcaller in each of his seven seasons as a head coach.
Who calls the plays?: Again, there was no definitive statement, but everything points to Harrell having that duty. Questions about the process of West Virginia's offensive playcalling have increased somewhat in frequency over the past year, and not just in relationship to their success. The process of getting plays in, and the involvement of the head coach, offensive coordinator and perhaps others has never been fully clarified, as Brown has deflected such queries.
Part of that is due to Brown's nature of keeping as much information as possible "inside the program," and that's certainly his prerogative. However, a cleaning up, or more appropriately, a paring down, of the operation should be a part of this hiring. WVU struggled to get plays called and relayed to the field in a timely manner at some points this past season, and having one coach with the responsibility to make it all happen would seem to be more efficient – another word that Brown used in his introduction of Harrell.
It's hard to imagine that Harrell would take the job without a great deal of control of the offense and QB teaching. That's not to say a collaborative approach can't work – the formation of game plans on all three units each week involves that – but in the end, there has to be a decision-maker, and one that operates the process of playcalling quickly.
Get all of our print editions with your subscription today!
Full up, and who gets the tight ends?: Harrell "replaces" Travis Trickett, who has departed for USF, giving West Virginia a full complement of assistants at the moment. Parker, who will still coach WVU outside receivers, could add the inside receivers and tight ends to his coaching list, but that's a lot of players for one coach to handle, especially if the tight ends are going to be a bigger part of the offense, as has been worked on over the past year. Injuries and departures have stunted that progress, but West Virginia appears pot committed, at least for the next year or two, to making the tight end part of the offense. That's not a traditional component of the Air Raid tree from which Harrell descends, but he showed ability at North Texas – one of his previous coaching stops – to implement that position into his attack.
Harrell also takes over as WVU quarterbacks coach, which leaves the status of current assistant Sean Reagan in question, at least at that position. Reagan has coached QBs for his entire college career, but with a full understanding of WVU's offense, he could move over to coach the tight ends and slots. He also oversaw running backs for three years at Troy from 2015-17, so he does have some experience outside of the QB spot.
The remaining open spot: A week ago, it appeared that West Virginia's biggest hire might be in replacing offensive analyst Kirk Ciarrocca, who was reportedly involved in much more of the offensive planning than had been revealed. Obviously, Harrell's hiring splashes much higher, but that analyst spot is still open. In looking for a potential hire, it stands to reason that someone close to Harrell might be a candidate, so as to help him hit the ground running. Might one candidate be …
The Doege connection: Hang in for a moment. We're not talking about Jarret, who recently departed WVU after some brutal online treatment and a decent, yet unspectacular career. Instead, we're looking at Jarret's older brother Seth Doege, who has been on USC's staff for the past three years, two as an offensive quality control analyst (2019-20) and the recently-concluded season as tight ends coach. That's right next to Harrell, of course.
Two big drawbacks exist here, of course, one being that Seth is certainly aware of how Jarret was treated by a percentage of the population. The other is that unless another position coach move is made, he could only come in as an analyst. There's nothing to indicate that such a move is in the offing, but giving Harrell a dependable face in the analyst position would seem to be a solid choice.
The ties between the Harrells and Doeges extend back for decades, all the way to when Sam Harrell (Graham's dad) retained Randy Doege (father of Seth and Jarret) in a high school coaching position in Texas. Now, after intersecting a couple of times during their careers most notably in a one-year crossing at Texas Tech, Graham and Seth spent the last three on the same staff at USC. That might be the end of it, but connections are often the most powerful factor in coaching hires.
Who will Harrell be coaching?: Garrett Greene. Goose Crowder. Nicco Marchiol. And maybe a transfer? Harrell's hiring brings the USC quarterback situation into play, and it's been as chaotic as anything WVU has seen in its wide receiver room. With the arrival of new head coach Lincoln Riley with the Trojans, Kedon Slovis, who played in nine games last year for USC and completed 193 of 297 passes for 2,153 yards, transferred to Pitt.
Riley, poaching his former school, is expected to land Caleb Williams, who rescued Oklahoma this year, so that is apparently sending Jaxson Dart, a highly-regarded true freshman, into the portal. Dart (6-3, 215 lbs.) went 117-189 for 1,353 yards and nine scored against five interceptions at USC in 2021, comparing favorably with Slovis' play and beating him out for the job as the season progressed. Dart was the odds-on candidate to be the starter in 2022 – until Riley was hired, setting up a runway for Williams to follow him to SoCal.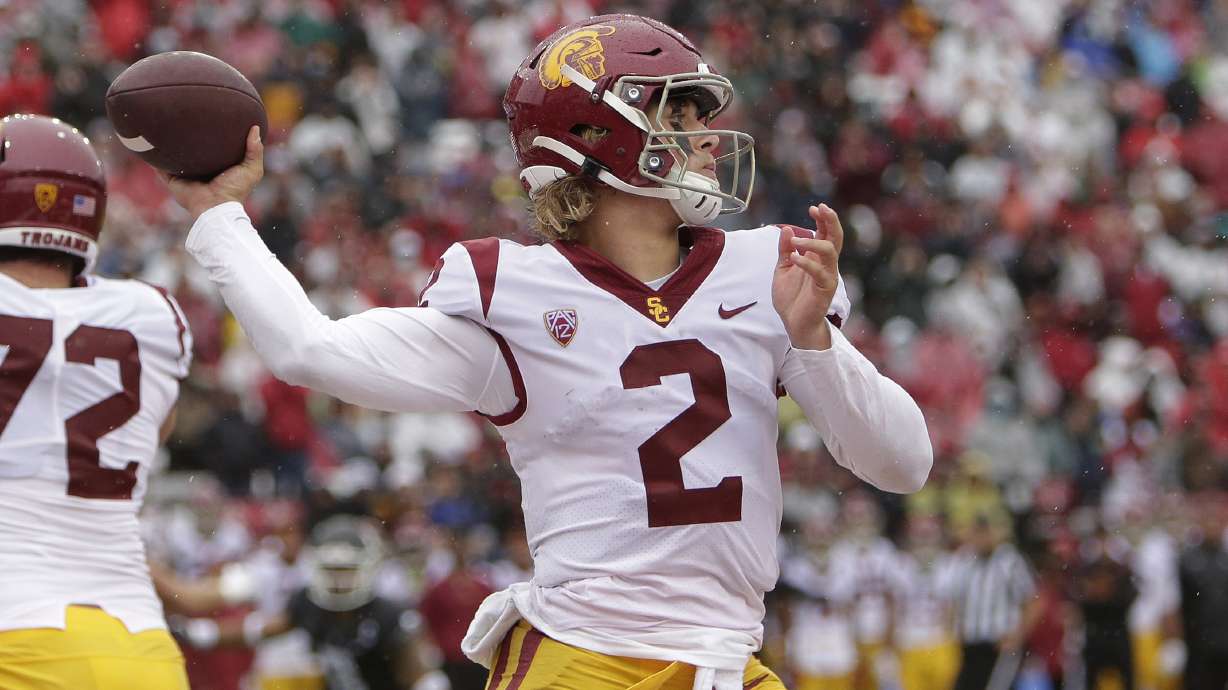 Could Dart, then, execute the same maneuver and follow Harrell to West Virginia? It would definitely be a case of multiple dominoes falling, but this is a new era of roster building and player movement, and the possibility can't be discounted. It would also set up a delicious battle between two former teammates squaring off in the Backyard Brawl in the 2022 football opener.