Kansas Builds From Adversity; More Big 12 Notes
---
MORGANTOWN, W.Va. –West Virginia enters this week's 3:30 p.m. home game with Kansas State riding a two-game winning streak.
No surprise there.
But there is here and it is that the University of Kansas, long the doormat of the Big 12, also enters this week's action with a two-game winning streak after beating Rutgers, 55-14, Saturday.
It was the first time the Jayhawks had won back-to-back games since 2011.
The previous game they beat Central Michigan to end a nine-year, 46-game road losing streak.
It was a complete turnaround from losing its opener in overtime to FCS member Nicholls State.
What happened?
Coach David Beaty, who seemed destined to be fired before the year was out, says it started last year when they walked off the field after losing to Oklahoma State in the season finale.
"There was a deliberate approach among all of us not to let what happened last year happen again," Beaty said.
Even the stunning loss to Nicholls State played into the turnaround.
"One of the things we were able to draw upon was all the adversity we have been through in our program. Our guys did a terrific job of coming back Sunday and Monday and being deliberate to do the things that were necessary to do.
"Our guys saw the error of their ways and I saw a new dedication to detail."
Kansas now has a winnable game against Baylor this week, if this rush of success doesn't go to their head.
"We always put the blinders on," Beaty said. "It's always about what's next for us. You've got to learn from the previous but understand it's about what happens next."
* * * * * *
Texas Tech's Kliff Kingsbury coached quarterback Pat Mahomes, whose transition to the NFL has been nothing but spectacular
After seeing his Texas Tech freshman record for yards passing in a game broken by Alan Bowman on Saturday, who threw for 605 yards, Mahomes went out and broke an NFL record while throwing six touchdowns against the Pittsburgh Steelers on Sunday in the Kansas City Chiefs' victory.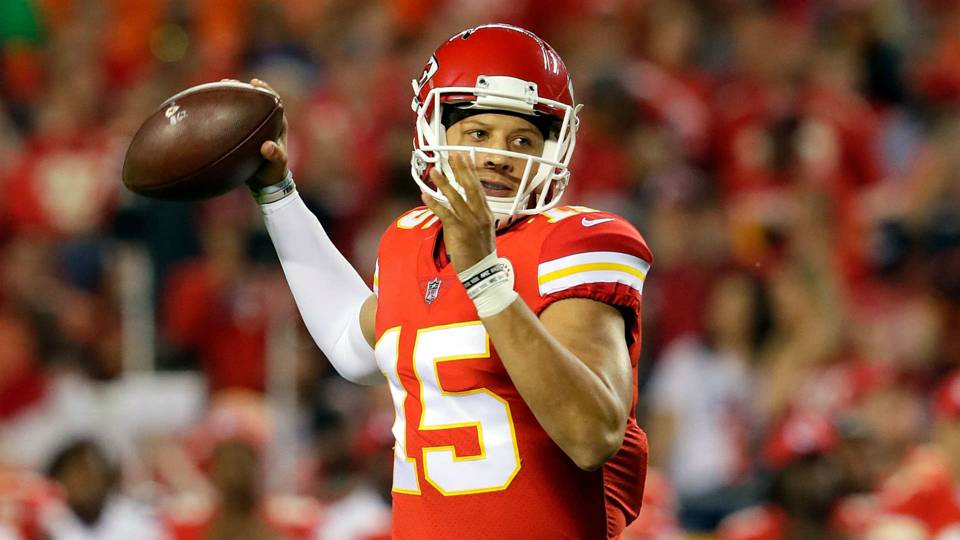 Mahomes, the 10th player drafted in 2017 and the starter in the final game of last season for the Chiefs, now has 10 touchdown passes in his first two NFL starts, destroying the previous record of eight held by Tennessee Titans QB Marcus Mariota and Mark Rypien, the Super Bowl XXVI MVP.
He also is just the second player in NFL history to throw at least four TD passes in the each of the first two games of the season (matching Drew Bledsoe in 1997).
Kingsbury admits some surprise at such a fast start but not at Mahomes having great success.
"We had a ton of belief in Patrick and saw him do amazing things here," Kingsbury said. "That league is the best in the world and we thought it might take a little longer to have this type of splash."
Kingsbury said that much credit must given to the quarterback Mahomes beat out for the job, the veteran Alex Smith.
"Patrick's work ethic really improved being around Alex," he said. "He's pouring his whole life into it now."
* * * * * *
Few doubt that Oklahoma is the leading candidate for the Big 12's representative in the College Football Playoff, but there is an area of concern that cropped up for the Sooners against Iowa State — tackling.
The Cyclones gained 447 yards in the game, 330 of it passing and with a lot of the yardage coming after contact.
"We weren't tackling the way we tackle," coach Lincoln Riley said. "It was not up to par for us. We had guys there the majority of the time but they didn't get it done. It's something that has to improve for us."
* * * * * *
TCU couldn't pull off the upset of No. 4 Ohio State on Saturday but coach Gary Patterson isn't seeing it as a negative thing or step back.
"I don't know if I feel any different about my team than I did before the game," Patterson said. "It was fun to be on that stage. We made a few mistakes. They now know not to play outside themselves."
He said that was just part of a "three-week season" for them that included consecutive games against the Buckeyes, Texas and Iowa State which will give his team its direction.
"We knew we couldn't go over the top emotionally against Ohio State knowing we had to come back for those other two games," Patterson said.
* * * * * *
WVU's September 29 game against Texas Tech has been set for noon.
* * * * * *
Saturday's game against Kansas State will be preceded by the WVU Sports Hall of Fame induction ceremony at the Caperton Indoor Facility at 12:30 p.m. Admission is free.
This year's class includes Kate Bulger (women's basketball), Jon Capon (men's soccer), Avon Cobourne (football), Mike Gansey (men's basketball), Tom Keane (football), Larry Krutko (football), Eleanor Lamb (administration), Steve Slaton (football), Bev Fry Plocki (gymnastics), Pat White (football) and Web Wright (rifle).
White is not expected to be in attendance due to his new job as quarterback coach at Alcorn State.