MORGANTOWN, W.Va. — On the surface, it has always seemed so simple, the job that Matt Wells had as senior associate athletic director for external affairs, which puts him in charge of marketing the athletic programs at West Virginia University.
Like, really, what was there to marketing the only game in town? No professional competition, so many graduates as it represented their state?
It was sort like trying to make McDonald's a success in a town where there were no other fast-food restaurants.
Then, early last year, there was no game in town. As the COVID-19 virus grew, sports were canceled one after another. Try marketing basketball in a college town on the heels of having March Madness called off,  and with a disease forcing people to stay at home.
You bet they were scrambling, trying to keep the past alive when there is no present and the future is in doubt.
How did this award-winning department that was considered one of the best in the college game in nearly all areas of marketing, from its logo to its merchandising to its media relations to its broadcast arms to its publications and its social media presence approach a challenge that no one had to think about for 100 years?
"Our goal was to engage and interact the fans in any way we could, knowing it was going to be different than — quote/unquote — a normal year," Wells began when asked about it this week as normalcy seemed to be about ready to return. "We had to adjust accordingly and obviously the social media aspect was crucial to us."
It began, as it so often does in businesses these days, with meetings … in person before the protocols were in place, through Zoom sessions later, but with the idea of meeting the challenge head on.
And social media proved to be the main connection between WVU athletics and its fans.
"It allowed us to engage with our fans even though they couldn't come to our venues or could come in limited numbers as we got later into the season," Wells explained. "It was trying to take advantage of the opportunities that were created and go to where the fans were at."
The news, however, kept getting worse as students returned home, as athletes could neither work out nor meet together in live groups.
"If you go back to last March and roll into the summer, then the winter and then this spring, it was a little bit different each step along the way as things opened up," Wells said. "We created some virtual efforts. The best example was the Gold and Blue game in the spring of 2020."
Get all of our print editions with your subscription today!
This would prove to be jewel of all the efforts. Spring football practice was cancelled just two practices in. It was over before it really could begin, yet they found a way to create a way to still hold the spring football game … sort of.
"One of the first events that was canceled was the Gold-Blue Spring Game, so we did a virtual game," Wells said. "Our marketing staff led by Nathaniel Zinn and our social media staff led by Grant Dovey and video staff of Scott Bartlett, Scott Ostien and Sean Merinar put a lot of work into basically playing a whole football game on Twitter."
The genesis of the idea was classic teamwork problem-solving.
"The virtual game was a group effort. It was taking a look at it, talking with Coach Brown and with Shane [Lyons]and Keli [Zinn] about what we could do to keep WVU athletics at the top of our fans' minds. We also wanted to provide entertainment to our fans when there was not a whole lot of options," Brown said..
"There were brainstorming sessions that didn't have a plan going into it but had a plan coming out of it. It was a group effort to piece together all those plays into a virtual spring game and it became fun for all those staff members who had a lot of experience and knowledge of West Virginia football history.
"You had a great play from the '80s for the Gold team followed by a great play from the 2000s and vice-versa. We were keeping an eye on what was going on across the landscape, what other teams and schools and organizations — professional and college — were doing to engage their fans. You can always learn a lot from that."
It was a crazy idea whose time had come.
Jack Fleming was back. So was Amos Zereoue and Don Nehlen and Marc Bulger, brought right into your home or your cell phone.
That got it going as activities were stopping.
"Throughout the summer you saw a lot of programing put out there through our channels. Fans were hungry for content because we weren't on television like we usually are, so we were trying to fill the gap by replaying old games of note and bringing out old radio broadcasts and having a series of those games so fans could listen to them throughout the summer," Wells explained.
It was like the Mountaineers never lost, like everyone was always dressed in official gear.
When a lot of ill will could have been created due to the situation, they did what they could to shine a positive spotlight on what WVU sports are supposed to be.
Slowly, they offered limited attendance to sporting events … a smattering of fans scattered throughout the arenas. It wasn't exactly what they had in mind when they replaced the seats in the Coliseum for the first time in the building's 50-year history. New seats and no fannies to put in them … and a marvelous new video board waiting to perform for a full house. Having only a few fans created a different situation that had to be addressed.
"Once the fans started coming back, we were still trying to engage those fans who couldn't come to games, didn't have access to tickets or just didn't feel comfortable coming during the pandemic," Wells said.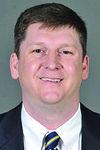 "We did virtual T-shirt tosses or virtual promotions where fans could retweet to win something or be part of what was going on. We did a good job of adjusting to things as they started to open back up. We went from having no games to having no fans to having limited fans. We approached it differently each step along the way."
WVU now has to get the fans back into attending games.
"While we doing all we could to stay engaged with our fans during the pandemic, coming out of it and returning closer to normal, we still have to take advantage of the lessons we learned during the pandemic. We still have to engage our fans across all mediums, not just in-venue," Wells said.
"We have to engage them so it's worth their time, effort and money to keep them in-venue. Not only are they making a financial investment but they are making a significant investment of their time, We have to recognize and appreciate that investment. It's our job to engage them and make the games worth their time and effort.
"There's only so much we, as a marketing staff, can control between the white lines. Our job is to engage and entertain outside the white lines — when there's breaks in the action as good as we can, make the pregame experience as good as we can, making the game experience as good as we can and make the post-game experience as good as we can."
That always has been one of WVU's marketing successes, from the Kroger shoppoing cart shootout at basketball games to T-shirt tosses, while doing what they could to create modern, comfortable, clean facilities.
"We've gotten nothing but positive feedback on the facilities. Shane made enhancing the facilities a priority. He, along with all of us, know we have to do all we can to make it an enjoyable visit to all our venues in order to assure fans keep coming back. As much as an asset as television is for us from a recruiting standpoint and a financial aspect — they are our largest partner in financing our operations — we also know it creates alternative options to consume our games.
"So, it's our job to make it more enjoyable for our fans and part of that is making the facilities nicer and more comfortable to attend."
Of course, winning is still the best marketing tool.
"It's an important part of it but from our end we have to be willing to invest in the outside the line things that winning creates. What we want is even when we lose is to put on a show and an experience for our fans to say 'Things may not have gone our way but we had a good time and look forward to returning to the Coliseum or the stadium at the next opportunity.'"