As West Virginia celebrates its 40th season at the current Mountaineer Field, there is so much history to look back upon and to pick just one man, one moment and his memories is indeed a difficult task, but there is such a man who had his moment and gave us all such wonderful memories who seems to symbolize all that WVU football stands for.
The man is John Pennington, whose story takes him from the lowest of walk-ons to the heights of becoming a Backyard Brawl hero with what became to be known as "The Catch" to feeling the depths of dropping a crucial pass that helped lead to a devastating loss to a different rival, Virginia Tech.
Today Pennington remains in football as the head coach at West Virginia State, working with former teammates Quincy Wilson and George Shehl on his staff, a man who has enjoyed a journey that is worth retelling.
Pennington had been a solid player at George Washington High School but was not considered a major college prospect, yet he wanted badly to play at West Virginia, his state university.
He caught the bug the day he attended his first game at Mountaineer Field, a red letter game in WVU history for it was the 1988 31-9 victory over Syracuse that ended a perfect regular season and sent the Mountaineers off to play Notre Dame in the Fiesta Bowl for the national championship.
"I remember my dad, my uncle and my grandfather being so intense," Pennington said as he looked back. "But I was thinking 'I want to be the guy in the arena'. That was like the first epiphany moment where I was like 'That was awesome but I want to be the guy everyone is cheering for.'
"I envisioned myself as the guy out there being booed or cheered. My family was intense that day against Syracuse, but I wanted more than sitting in the stands. I felt that was incredible, but I wanted to be the guy on the inside."
So it was that nothing would stop John Pennington in his quest to join the WVU football team. There was no scholarship offer, of course. In fact, he wasn't even an invited walk-on. He simply got a spot as a favor from Don Nehlen to former George Washington High School coach Steve Edwards Sr.
His first season he wasn't even dressing in the main locker room, but dressing in the visitor's locker room for practice with a handful of other players.
"The very bottom rung," Pennington explains.
Get all of our print editions with your subscription today!
The regular team had been through two-a-days in camp but Pennington was in a group that didn't join the team until school started and he remembers his first day on the field.
"We had to do some paper work before we went out there, so the team was on the field when we came running out," Pennington recalled. "Everyone just stopped what they were doing and started making fun of this scraggly looking group running onto the field."
The first drill they went through were special teams drills and Pennington was on the scout team against the kickoff coverage team. They would run down on the kick and the scout team was supposed to knock them off their path.
"Of course, this was the Super Bowl for me," Pennington said. "I was going way too hard. The first guy came down and I just gave him the business. I got into him and shoved him and knocked him off his line."
As Pennington recalled it, "everybody laughed and was making fun of their buddy."
So, he got another turn out there.
"This time the same thing happened and I put this varsity guy — I don't know who it was — on his back. I jumped up screaming and hollering and Coach Nehlen comes over — he'd stopped practice — he says 'Are you guys going to let this little piss ant block you guys?'
"I didn't even know what a piss ant was but I could put the context clues together to figure it out."
For those who don't know, the definition of a piss ant is "an insignificant or contemptible person or thing."
"Well, next guy up was, and I didn't know who it was, but it was Grant Wiley, this guy in a No. 6 jersey and I'm thinking 'These guys aren't so bad. I can do this.'"
Grant Wiley, Pennington would learn quickly, was an All-American linebacker.
"Well, here comes Grant Wiley, gives me a little move. I'm ready to explode but just before I can, he explodes right through my face," Pennington said, laughing at the thought. "I look up and he's standing over me, looking at me. It was one of those 'Welcome to college football moments.'"
Pennington admits he took a lot from the moment. He called his father, something he always took pride in doing when he'd done something good and said: "'Dad, I was doing really well, I got coach Nehlen's attention and I took their best shot and got up and was ready to fight again.' I was so proud of myself."
Of course, his father told his friends about the call he had received from his son.
"My dad's friends called me 'Piss Ant' for a while," Pennington said.
The next season, Pennington returned, drew his equipment and headed for the visitor's locker room when Dan Nehlen, the coach's son and the team's long-time equipment manager, shouted out to him:
"No, they moved you into real locker room." My jaw just dropped. It was one of those moments, like 'Wow! Maybe I can do this.'
"Someone saw something in me. It wouldn't have mattered to me either way which locker room I was in, but I felt they believed I might have a chance and that kind of spurred me on a little bit."
It was a humble beginning but Pennington kept proving himself until finally there came the moment of "The Catch."
It's 2003, a minute left in the first half, No. 16 Pitt leading unranked WVU on its home field, 24-17. Quarterback Rasheed Marshall lines up in the shotgun, takes the snap, makes a quick little pump fake and throw the ball down the left sideline. It's a perfect pass and Pennington, who has a Pitt defender all over him, leaps and stretches out and makes the catch to tie the game.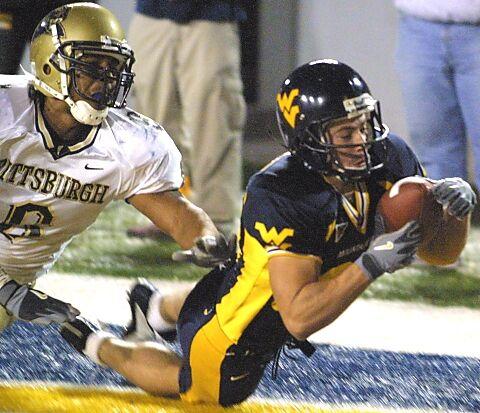 "Everyone looks like Larry Fitzgerald today," says the ESPN announcer.
Pennington leaps to his feet, jumps in the air, pumps a fist, points toward the stands and is mobbed by teammates.
"The feelings were so surreal… it was that Mountaintop Moment," Pennington recalled. "I remember when I came to the sideline the team was electric. There was so much emotion. I remember the happiness the team had for me. Everyone was like part of my journey. They were rooting for me. It wasn't like just 'John made a play.' They were happy, almost even happier than I was that the play came to fruition because they knew how hard I worked.
"I could feel their love for me and that was the most important thing. I knew these were my teammates and that was the most important thing. I pointed up to my parents in the stands because everything was for them. I was so happy they could see that. Everyone was pounding on me … my coaches, teammates, you could just feel their energy. They were happier than I was, which was great, because I was happier than you could be."
Pennington had become a Mountaineer hero. West Virginia would use the play as a springboard to four second half touchdowns — three by Quincy Wilson, who finished the day with 208 rushing yards and four scores, in a 52-31 upset win.
People today still come up and talk Pennington about "The Catch"
"I still see fans who remember 'The Catch'. I understand, it was such an iconic play, but at the same time I was a nobody who made a play. For fans to come up to me and say they remember that catch, that just shows you what Mountaineer Field is all about," said Pennington, who had only seven catches that entire season.
Making a play like that can become a burden, for it is something people expect you to live up to over and over, but few can do that.
And the next season Pennington got his feet planted firmly back on the ground as he dropped a pass against Virginia Tech on third down which led to a punt that was blocked and run back for a touchdown that turned another potential Mountaineer upset into a defeat.
"I fell down that mountain the next year," Pennington remembered. "I dropped a pass against Virginia Tech. Honestly, I learned a lot from that. I was so passionate about my goals, and then I achieved them and reset them. It taught me you can't ever stop. It's about the journey, not the destination.
"I learned more about perseverance, and what my character was. Even when bad things happen there's a certain way you need to perform and go about your life. That drop probably taught me more about life than 'The Catch,'" he concluded.
And today, as a coach, he puts it all together and uses his WVU experiences to guide others.
"Everything I learned as a student-athlete at WVU I try to apply to my role as a coach, as a husband, as a father. There is so many things I learned about being tough, being prepared, being a great teammate," he said. "I knew football was about relationships. I work with George Shehl and Quincy Wilson every day and I'm grateful for that. I'm thankful to God I get to be with my teammates every day. We're brothers … me and Quincy and George and Avon.
"I grew up, you could say, with a silver spoon. I went to George Washington High School, I have great parents, I had every opportunity you could ever have. Then, when I went to WVU I was no longer the guy the opportunities were given to. I now saw the opposite role. I was the guy they don't even care about or know about or don't even want out there.
"The roles were reversed. I had to learn how to prove myself, to create opportunities, how to overcome adversity — not real adversity but just not being the favored person. I think that was the greatest life experience I could ever have. I think it helps me relate to players and lead and coach our team."