MORGANTOWN, W.Va. — Who was the best West Virginia running back you never hear anyone talk about these days?
This is not a trick question, by the way.
You hear about Steve Slaton and Amos Zereoue and Avon Cobourne, Noel Devine and Quincy Wilson.
Leddie Brown will be trying to elbow his way into that group this year.
But Adrian Murrell?
OK, he wasn't a record setter and he did nothing legendary, unless you want to count being WVU's first recruit from Hawaii, a man who went from what most regard to be Heaven to what all of us around here regard as Almost Heaven.
His problem was he always seemed to be the right guy in the wrong place.
How good was he?
Well, he was a 1,000-yard rusher at WVU. His average per carry for his career was the same 4.9 as Avon Cobourne, who wound up as the all-time career rushing leader. But the teams Murrell played for did not produce as they could have.
Look at what happened after he left. He is only one of two WVU running backs to gain 1,000 yards in an NFL season, Steve Slaton being the other, who gained 1,282 yards at Houston in 2008 before injuries ended his career.
Murrell, who played for the Jets, the Arizona Cardinals and the Dallas Cowboys, had three 1,000-yard seasons in the NFL.
His first, 1996, saw him gain 1,249 yards, just 33 shy of Slaton's total.
It is little or no exaggeration to say he did that mostly on his own for Adrian Murrell's best season was the Jets' worst — and they have had some bad ones, but none worse than 1996 when they went 1-15, losing their first eight, beating Arizona, 31-21, then losing the next seven. That came off a 3-13 season under coach Rich Kotite the year before.
In the Arizona win, it was all Murrell for he had his best day as a professional running back, gaining 199 yards — missing a 200-yard game in the NFL by one yard — just three feet.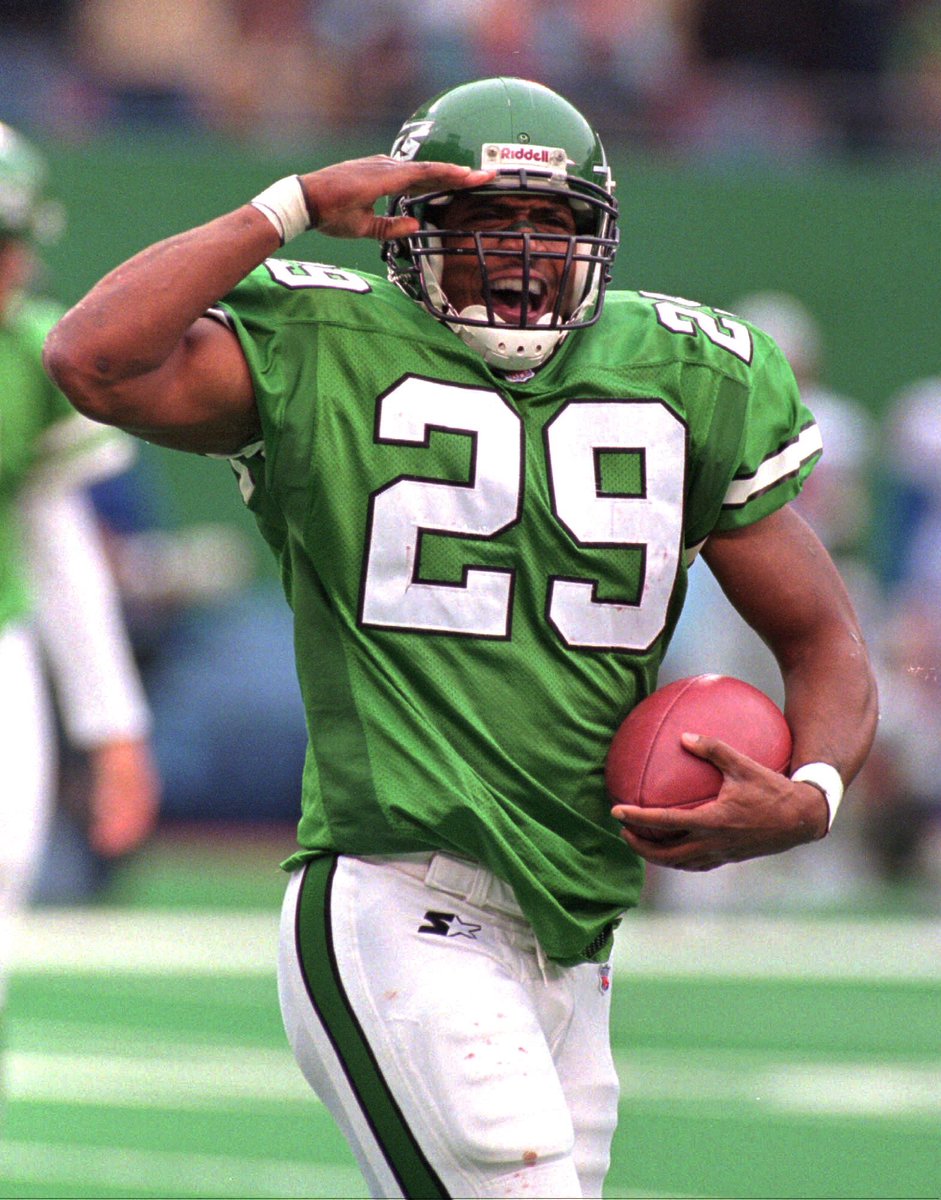 Doing it on his own? The Jets as a team had only 208 rushing yards.
While leading 24-21 with 5:34 left in the game, Murrell saw to it that this one wouldn't get away with a 78-yard run to take the ball to the Cardinals two-yard line, from where Reggie Cobb took it the final distance for a score and a 10-point lead that they protected the rest of the way.
But let's for a moment go back to this right guy in the wrong place syndrome that wrapped itself around Murrell.
The Mountaineers had landed him from Hawaii, where he was a high school sensation, when an alum sent Don Nehlen a note about him.
At WVU he had rushed for 905 yards his first year as a starter and 1,143 his second before opting to go to the NFL. Why not? He was ready and he'd played for a 6-5 team and a 5-4-2 team, a team that didn't even make a bowl game.
It wasn't because it was an untalented team, just an unlucky team that had Murrell, Jake Kelchner, James Jett, Darren Studstill, Mike Vanderjagt, Todd Sauerbrun, Garrett Ford Jr., Mike Compton, Rich Braham and others.
So he went into the draft and the next year WVU went undefeated with him gone, going 11-0 in the regular season with a team that most observers did not feel was as good as the one in Murrell's last season, a team that beat Pitt, Maryland and Virginia Tech in consecutive games but didn't have any luck the rest of the year.
Meanwhile, Murrell was being told he would be a first-day pick in the draft, only to hang around until the fifth round when the Jets grabbed him.
"For me [the draft] was a bittersweet process. From what was told to me and what my rankings were, I was going to be a first or second-day pick. I showed fairly well in the Combines and the Senior Bowl," Murrell said on the Classactsports.com podcast a few years back.
"All things pointed to me being drafted in the first or second round. For it not happening, but still getting an opportunity to go to the NFL was a lifelong dream. I took that as I have an opportunity here and I want to see if I can make the best of that opportunity."
Yes, he was let down but challenged by the opportunity he had.
"As you know, the draft is a tricky thing," he said. "You think you'll be (picked) in one round and you don't get picked by the team you thought was going to pick you and slip for however many rounds. Once you get there, where you were picked goes out the window. Now you have to perform."
Get all of our print editions with your subscription today!
It took years for him to get the chance to be an everyday running back and did so on those really bad Jets teams of Kotite, who was replaced by Bill Parcells.
He suddenly had a Hall of Fame coach — the second in his career, having played for Don Nehlen at WVU [Note: Murrell also is the only player to have played with two Jake "The Snake" quarterbacks, Kelcher at WVU and Plummer with the Arizona Cardinals] and things changed.
Building began and Murrell had his second straight 1,000-yard season as the Jets went 9-7.
He was happy in New York, saw things changing for the Jets … and was then stunned when he was traded to Arizona.
"There were conversations between myself and Parcells and he said I'd have the opportunity to stay," Murrell said. "We were on the cusp of doing something. When we walked out of the tunnel to play the Detroit Lions in what turned out to be my last game with the Jets, Coach Parcells said he was going to get some things to help us out. I felt comfortable I would be there longer than I was."
But when you are a professional athlete, it doesn't always work out as you want it to.
The Cardinals wanted him, perhaps remembering that 199-yard effort against them a couple of years ealier.
"I felt very good about the situation there. There had been a lack of production in the run game. That factor and the fact they hadn't been to a playoff game in like eight years and not having won a playoff game for like 51 years, I feel it was a great accomplishment."
In a 1998 playoff game, the Cardinals beat Dallas, helped by Murrell's 95 yards on just 12 carries.
But that would be his last big season. While Parcells built the Jets back up, Murrell played out his career, retired when he really felt he had more football in him, and came back to rejoin Parcells for one final year in Dallas in 2003 when he was 33 years old.