The Chalkboard: West Virginia Mountaineers – N.C. State Wolfpack
---
A balanced offense isn't a path to success in and of itself. Plenty of teams have forged excellent records by excelling at one or another aspect of offensive football, and there's no guarantee that running a similar number of runs and passes is a guarantor of success.
That said, a balanced attack has been a hallmark of N.C. State teams under head coach Dave Doren, with no stronger indicator than the 2018 season, in which the Pack had a 51%-49% run pass ratio.  This year, it's 53.8% pass and 46.2% run, but that gap could shrink significantly early on, as N.C. State figures to test a West Virginia run defense that has yielded 202 yards per game.
So, faced with an offense that looks to have the ability to move the ball in a variery of ways, what does WVU defensively? Try, as is often the case, to take away the run and make the Pack attack one dimensional? Try to avoid giving up the big play and force N.C. State into mistakes that can crop up on long drives? (It should be noted that they have no turnovers and just nine penalties through two games.)
With so many problems to address, West Virginia has had to combine scheming to defend against N.C. State's offense with teaching and competition to identify new potential contributors on Koenning's unit. Will that make it easier for the Pack to dictate what it wants to do?  It's no secret that they will try to run first, so stopping that is important, but if they hit a couple of big plays early, that could take the crowd out of the game and make for an even longer day than WVU suffered in Columbia.
* * * * * *
Much of the pregame focus is on the return of Tony Gibson to Mountaineer Field in his role as co-defensive coordinator of the Pack. Unfortunately, the results of this game will be used as fodder for a debate over defensive schemes and as support for snap judgements as to which one is superior. That's just noise, however, and any debate on it should be ignored. N.C. State has gone to a three-man front, and it was a bit surprising that so much of Gibson's defense was installed in favor of the 4-3 that Doren and Huxtable favored during previous years in Raleigh. However, none of that was done with an eye toward the third game on the schedule this year.
Gibson will be on the field for the game, though, and certainly that will engender some interaction with his former players after the game.
For its part, West Virginia is a team in transition, and its woes are well-documented. The results of this game, however, should not be used to make a call right now as to which team or school made the "right" choice for its coach or defensive scheme. It might turn out that both teams are winners in the long run.
Gibson isn't the only WVU defensive coordinator with ties to the Wolfpack. Steve Dunlap, who will be inducted into the WVU Sports Hall of Fame on Saturday, was the N.C. State linebackers coach from 2006-07. Like Gibson, Dunlap left WVU due to a coaching change, but instead of proceeding directly to Raleigh he landed at Syracuse for five seasons before landing a job with the Pack.
* * * * * *
The series between WVU and N.C. State is tied at five-all, and has been dotted with blowouts, including a 61-0 Mountaineer win in 1953 and a 49-13 Wolfpack rout in the 1972 Peach Bowl. The Mountaineers got revenge for that defeat three years later, downing the Pack 13-1o in the same bowl game in 1975.  Can you name the Mountaineer basketball player who caught the winning touchdown pass for West Virginia in that contest? Answer at the end of this column.
* * * * * *
DRESSING THE WOLFPACK: Red and white is a classic football color combination, and N.C. State has typically made the most of it. Although the Pack has tweaked its uniforms a number of times recently, the basic elements have stayed the same, providing a classic look with some nice touches.
The reverse color combo is appealing too. Bold, but without alternate colors or distracting add ons. The use of the log on the hip of the pants and helmet is a strong addition.
The only misstep comes in the alternate combination to be used this year. Obviously, there's no problem at all with a salute to the military, but does it always have to include a camo print? The N.C. State take makes it look as if the unis are stained, not camoflauged. Again, props to the idea, but the execution was sever3ly lacking.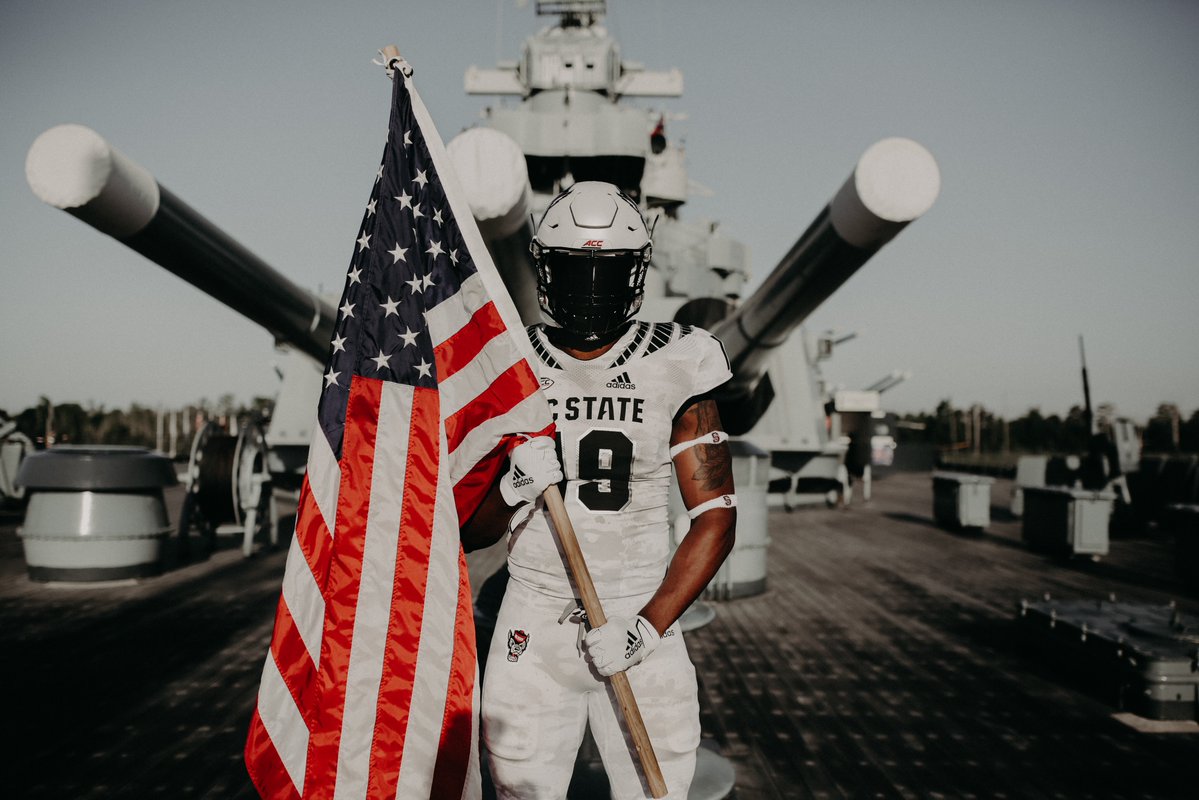 * * * * * *
Three of the ten meetings between the two schools have come in bowl games. That makes each team the most common opponent for the other in postseason play.
* * * * * *
West Virginia's leadership council, which we profiled in this past week's print edition (hit the link below to subscribe) has 14 members who serve as a link between the coaches and the rest of the team, handling many smaller decisions on their own, addressing issues of concern with the coaching staff, and communicating decisions and other information from the top down. On a team with some 120 members, that seems to be about the right number.
Conversely, N.C. State has 46 members on its council. With that many people, they must be practicing to participate on government committees.
---
MORGANTOWN WVU Football Weather

---
During his weekly press conference, WVU defensive coordinator Vic Koenning was asked a question about Gibson, but the media member doing so didn't call Gibson by name.  Koenning, before responding to the query, said "He's not Voldermort. You can say his name."
I don't know which I'm more impressed by — the fact that Keonning came up with that connection so quickly, or that he knows who Voldemort was. Many of the people in the room did not — although I certainly am not in that group, having read the HAary Potter series multiple times.
---
---
Scott MacDonald, who played just one year of football after lettering for three seasons on the hardwood, made a juggling reception and raced 50 yards to the end zone in the fourth quarter to give the Mountaineers the win. The contest was the highlight of his football career, as he had five catches — on fourth of his season total of 20 — for 110 yards and the deciding score.