The Chalkboard: West Virginia Mountaineers – Texas Tech Red Raiders
---
The West Virginia – Texas Tech contest isn't a bowl game. It isn't even an elimination contest for eligibility, although a loss will put the loser in a win out or else situation in the final three games of the regular season.
If that makes you yawn, or if you have already checked out on this season, then there's probably no need to read this section to completion, as it will be of no interest to you.
However, the game and its ramifications are of interest to some players on both teams — and the one that has more buy-in and hasn't given up on the year will have a big advantage come noon on Saturday. Of course, players are always going to say the right thing about being bought in and still engaged, but hey, we're all humans here. Teams can flip the "next year" switch, just like fans do. We've seen it happen in those "meaningless" bowl games (that's the term of the surrendering crowd and some journalists, but certainly not this one), and in the rush to look ahead of today's society (Christmas ads before Halloween, anyone?) it's probably not surprising.
So which team will have the majority of its players engaged? Which group of seniors wants to finish strongly and have a shot at a bowl, and carry with them the memory that they completed their careers with their best efforts? There's no real way to get a read on that, but at least West Virginia's coach won't be mailing it in at the end of the year, as happened frequently under the previous regime.
Texas Tech head coach Matt Wells espoused his program's view of the final month of action on Monday.
" They have continued to play hard and bust their tail for us and I respect our guys for that, I love our guys for that, I think that shows buy in. But the biggest thing for us is that we continue down our process, we live by our core values, the things that
we're going to do every single day to give us a chance to win and deserve victory on Saturday and that's what we have to continue to fight for as coaches and as leaders in this program, the culture and the how, how you do things every day. But I like the way our guys are playing, they're practicing hard, and, man, we're going to turn the corner and we need to find a way to win one. We know that."
* * * * * *
Despite missing the better parts of two games due to targeting penalties, safety Josh Norwood leads the Mountaineers in tackles with 55. However, he's now on the precipice of a stiffer penalty. If Norwood gets another targeting flag, that would be his third of the season, and the punishment for that is ejection from the current game and a suspension for the entire succeeding contest, not matter when in the preceding game the penalty occurs.
---
---
WVU is 88-14 since 2002 when winning the turnover battle. One of those losses came last week against Baylor, when the Mountaineers manufactured a 3-2 edge in takeaways.
Looking ahead, Texas Tech is tied for the Big 12 lead in turnover margin at +5, along with K-State and Baylor. WVU's season total of -3 has it tied for sixth.
* * * * * *
DRESSING THE RED RAIDERS: Texas Tech has rolled out a number of varying tweaks to its football uniforms this decade, with some modest changes in accent striping leading the way. This year, Tech stood pat with its red, black and white combinations, keeping the awkward shoulder stripes that remind of the Pony athletic shoe logo. That aside, there aren't too many other issues with any of these combinations.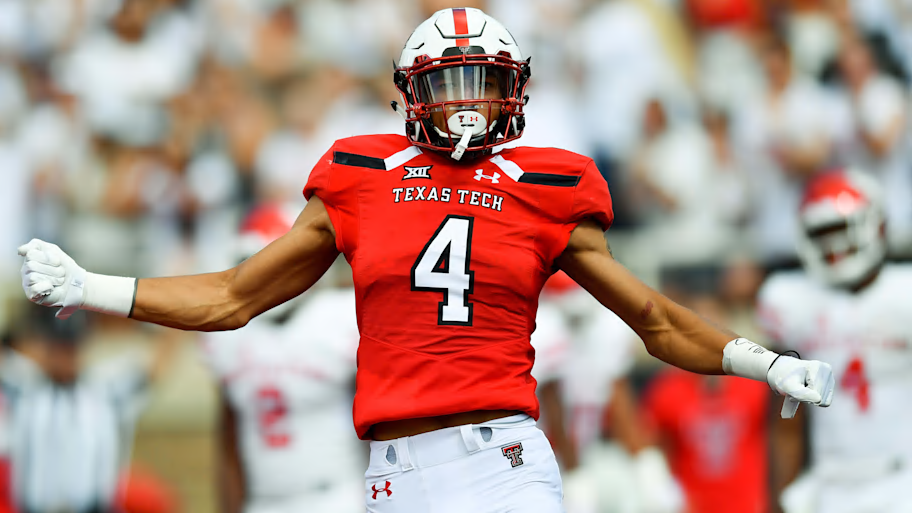 What Tech has to do is stay away from some of the goofy one-off looks, many of which have been done as sops to gear supplier Under Armour. Tech fans, unite and vote no:
Tech also used a throwback last year that isn't too different from its current uniforms, and hits the mark. The throwbacks bring back whte helmets, with stars around the logo. That log is the standard Double-T, without the newer 3-D bevel effects of the current signature of Red Raider athletics.
Otherwise, this look is clean and sharp, with just the right amount of striping and accents.
* * * * * *
How many coaches on the current WVU and Tech staffs have worked at both schools? If you said six, grab yourself a piece of leftover Halloween candy.
WVU head coach Neal Brown was the Red Raiders' offensive coordinator from 2010-12, and both Matt Moore (2007-11) and Chad Scott (2010-12) served time in Lubbock. Also, current WVU QB coach Sean Reagan was a graduate assistant under Brown in 2010.
On the reverse path, current Red Raider defensive coordinator Keith Patterson was part of the Holgorsen revolving door of coaches, maintaining a two-year employment from 2012-13. Paul Randolph, the current Tech defensive line coach, was on one of Rich Rodriguez' early staffs in Morgantown in 2002.
* * * * * *
WVU needs to win three of its final four regular season games to earn automatic bowl eligibility. The last time the Mountaineers put together that sort of run while looking at the possibility of not getting to the postseason was in 1994. West Virginia started that season 1-4, and was 3-5 heading into the final four games of the year. Don Nehlen's team recorded four consecutive wins to earn a spot in the Carquest Bowl.
---
---
West Virginia's motto for the year is 'Trust the Climb'. For the Red Raiders, it's 'We, Us and Our Program'.
"This is a We, Us and Our Program. I've said it from day one it's not about me, it's not about the starting linebacker, running back or one coordinator or one fan," Wells said prior to the season. "It's the power of what we can do together. We're not an offensive unit. We're not a defensive unit. We're a team. We're Red Raiders. It's the culture we are creating in this program."
* * * * * *
One of Wells' traditions is placing one of his best defensive players at right guard on the punt team. That's not just whim, as it stands to reason that a standout defensive player is tough enough to block on the interior, then get downfield to cover, where he can bring his tackling skills to bear.
So it is that Jordyn Brooks, who has recorded 346 tackles to stand ninth all-time on the Red Raider career tackles list, is manning the spot on he right side of the long snapper for the first year coach. He has two stops on the season to lead Tech's special teams.
Using reverse logic, maybe Rex Sunahara could help on West Virginia's injury-riddled defense. The Mountaineer long snapper has four tackles this season to lead WVU's special teams – perhaps that is a record for a long snapper?