Transfer QBs Highlight Showdown For Big 12 Title Berth
---
West Virginia and Oklahoma will square off with a pair of transfer quarterbacks at the helm as they meet on Friday in Morgantown for a spot in the Big 12 Championship game. With Will Grier (Florida to WVU) and Kyler Murray (Texas A&M to OU) at the controls, respectively, the two teams are expected to easily hit the 40-point mark – or perhaps go higher.
WVU head coach Dana Holgorsen, who has seen transfers dominate his tenure at West Virginia, believes the movement is a harbinger of more to come.
"I think seeing more transfers is 100 percent accurate. We've been in that direction six years or so," Holgorsen said. "Clint Trickett comes to us from Florida State and starts for two years, Skyler Howard was a little different out of junior college, then Will. At that position it's going to happen, if you don't beat someone out. I do think you will see it more and more, but there is value in sticking it out."
The Sooners haven't missed a beat offensively with Murray at the controls.
"Oklahoma recruits at a high level, and they've had two Heisman candidates with their last two quarterbacks. It looks pretty much the same to me," said Holgorsen in comparing Murray to last year's Heisman Sooner, Baker Mayfield.
Referring to those who do ride out their careers when they don't earn the starting job, Holgorsen took time to single out a Big 12 quarterback who has had great success.
"I want to compliment Taylor Cornelius," he said of the Oklahoma State quarterback who shredded the Mountaineers for 466 combined passing and rushing yards, and accounted for six touchdowns in the Cowboys' 45-41 win on Saturday. "He waited his turn. Guys like that could have jumped ship, and he didn't. He improved all year."
* * * * * *
Perhaps in an attempt to reinforce the message that his team can still attain most of its goals, Holgorsen was upbeat in describing the last month for his team. Whereas Texas head coach Tom Herman termed it "a grind," Holgorsen took the opposite view.
"It's been a lot of fun. We are having a good time playing ball," he insisted. "We are disappointed in how things ended the other night, but that was a heck of a college football game, a heck of a Big 12 football game. We have been in a lot of those this year.
"We have another one this weekend, and we're in a position where this game matters. We were disappointed after the (Oklahoma State) game but we are happy where we are at. If we can win it, we can accomplish our goals."
* * * * * *
Holgorsen took the opportunity during a question about WVU junior linebacker David Long to note that he didn't just come out of nowhere this year.
"I'd argue he was pretty damn good last year. He was our defensive MVP last year," he responded to a query about the improvement in Long's play in 2018. "He's doing the same stuff this year. Last year nobody knew who he was. I understand him being overlooked last year (for awards and recognition), but not this year.
"He is the leader of our defense, as good of a linebacker as I have seen in college football," Holgorsen added. "People are aware of where he is at. They account for him ever single play. I have never coached a guy who had the ability to get off blocks, get around blocks and make plays like he does. For a linebacker to have as many tackles for loss and sacks as he has, he's just an extremely hard-working, intelligent football player."
Oklahoma State went to numerous four-wide receiver sets, including three to the boundary side at times, to try to force Long away from the line of scrimmage.
* * * * * *
Friday's game will be Senior Day at West Virginia, but it will also mark Grier's only chance to play against the Sooners. He missed last year's game against OU after he was injured early in the Texas contest the week before.
"I haven't thought about that, but Oklahoma is the one (regular season) game he didn't start last year. This will be his last regular season game. He's meant a lot to our program as have all of our seniors," Holgorsen expounded. "They mean a lot to me and to WVU in general. What a way to be able to end the regular season paying such a high profile game. It doesn't get any better than this."
* * * * * *
West Virginia and Oklahoma have had some pre-game and in-game dustups over the past few years, with the Sooners getting the last laugh on the scoreboard. While Oklahoma head coach Lincoln Riley noted that he wants his team to play hard, he doesn't want any pre-game or after-the-whistle action.
"We do want to play with that edge but not cross the line. We want to play and keep it between the lines," he stated. "We have done better with that the past few weeks."
* * * * * *
Riley also offered his thoughts on the upcoming week's quarterback match-up between Grier and Murray.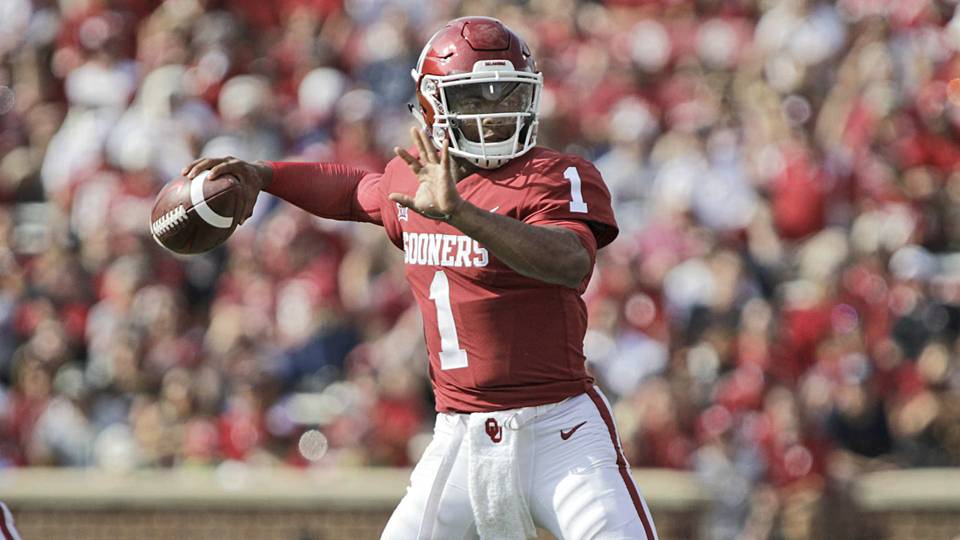 "Will is tremendous. Great kid, and great family," OU's second-year head coach said. "He's doing a great job. He's having the year that everyone expected him to have. He's smart, knows where he wants to go with the football. He's throwing it well, smart enough to feel pressures, and has a good feel for the game."
His own quarterback, Murray, has also been stellar, pushing his way into the Heisman discussion and perhaps exceeding even Riley's outlook.
"I had pretty high expectations for Kyler coming in to this year. He has done a great job. He's handled different situations that he and the offense has been in. He's taken care of the ball. The one thing, he is still getting better. He's got so much room to improve."
* * * * * *
Oklahoma State head coach Mike Gundy pointed out that his team was able to overcome four turnovers to rally against West Virginia.
"We turned the ball over and still scored 45 points on Saturday. If we're just minus one instead of minus three, you're probably going to score 50 or more."
* * * * * *
Texas head coach Tom Herman sees this week's schedule as the biggest challenge for the Longhorns as they attempt to secure a spot in the Big 12 Championship game. No mention was made of the opponent, Kansas, where all the focus is on the hiring of new head coach Les Miles.
"The short week," Herman said. "We're tired, we're banged up, coming off a night game and having to go on the road for an 11:00 a.m. kick. The way the week is compressed, that's a challenge."
* * * * * *
QUOTABLE: "There's only one way to rebuild, and that's to endure," said outgoing Kansas head coach David Beaty, who has exhibited total grace and class in answering questions during his lame duck status over the final three weeks of the season.