West Virginia Faces Stacked Big 12; Picked Fifth
---
West Virginia's 2018 baseball team has gotten national notice heading into the year, but it faces one of the toughest league schedules in the country. As a result, the Mountaineers are picked fifth in the preseason coaches' poll.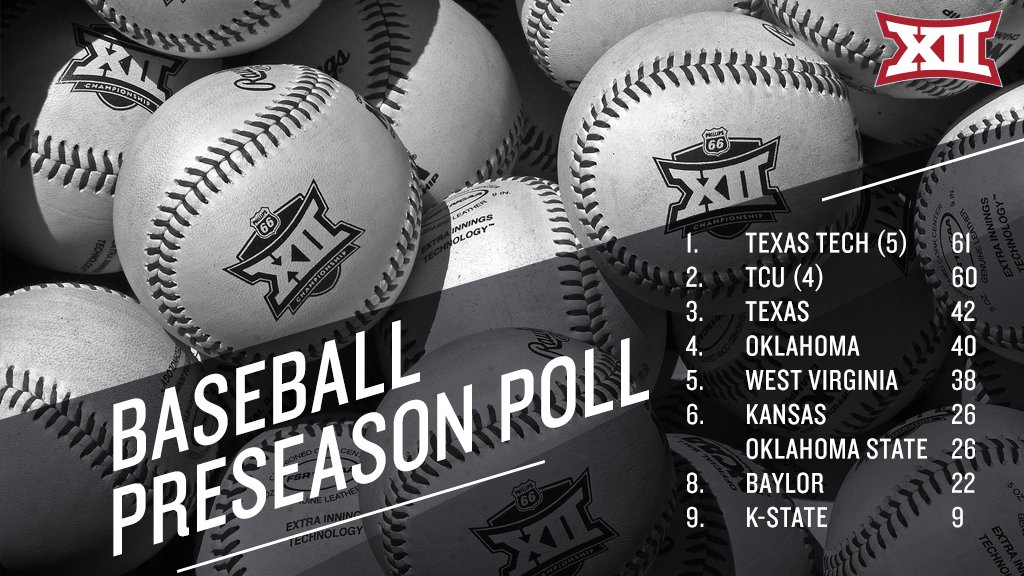 Texas Tech and TCU, the 2017 Big 12 regular season co-champions, were predicted to finish No. 1 and 2 respectively in the preseason ledger. The Red Raiders earned five-of-nine first-place votes and finished atop with 61 points. TCU collected four first-place votes for a total of 60 points. Texas ranked third (42), Oklahoma fourth (40) and West Virginia fifth (38). Kansas and Oklahoma State tied for sixth with 26 points, while Baylor (22) and K-State (9) rounded out the poll.
The pick of WVU shouldn't be construed as a sign of any disrespect for the Mountaineers — instead, it's just a mark of the strength of the Big 12 Conference. D1Baseball.com had a slightly different preseason view. It ranked Texas Tech as the #3 team in the nation an TCU at #7, followed by Texas at #21 and WVU at #22.
The 2018 season begins on Friday, Feb. 16, with conference play starting the weekend of March 16.
2018 BIG 12 PRESEASON COACHES' POLL
 Texas Tech (5)   61
 TCU (4) 60
 Texas 42
 Oklahoma 40
 West Virginia 38
 Kansas 26
 Oklahoma State 26
 Baylor  22
 K-State  9
First-place votes in parentheses. Coaches were not permitted to vote for own team.