WVU Coaches Integral in Kaulin Parris' Commitment
---
Bluefield High School kicker Kaulin Parris had set is sights on West Virginia University ever since he began participating in athletics, but it was the actions of the Mountaineer football coaching staff that sealed the deal and led to his commitment as a walk-on in the Class of 2020.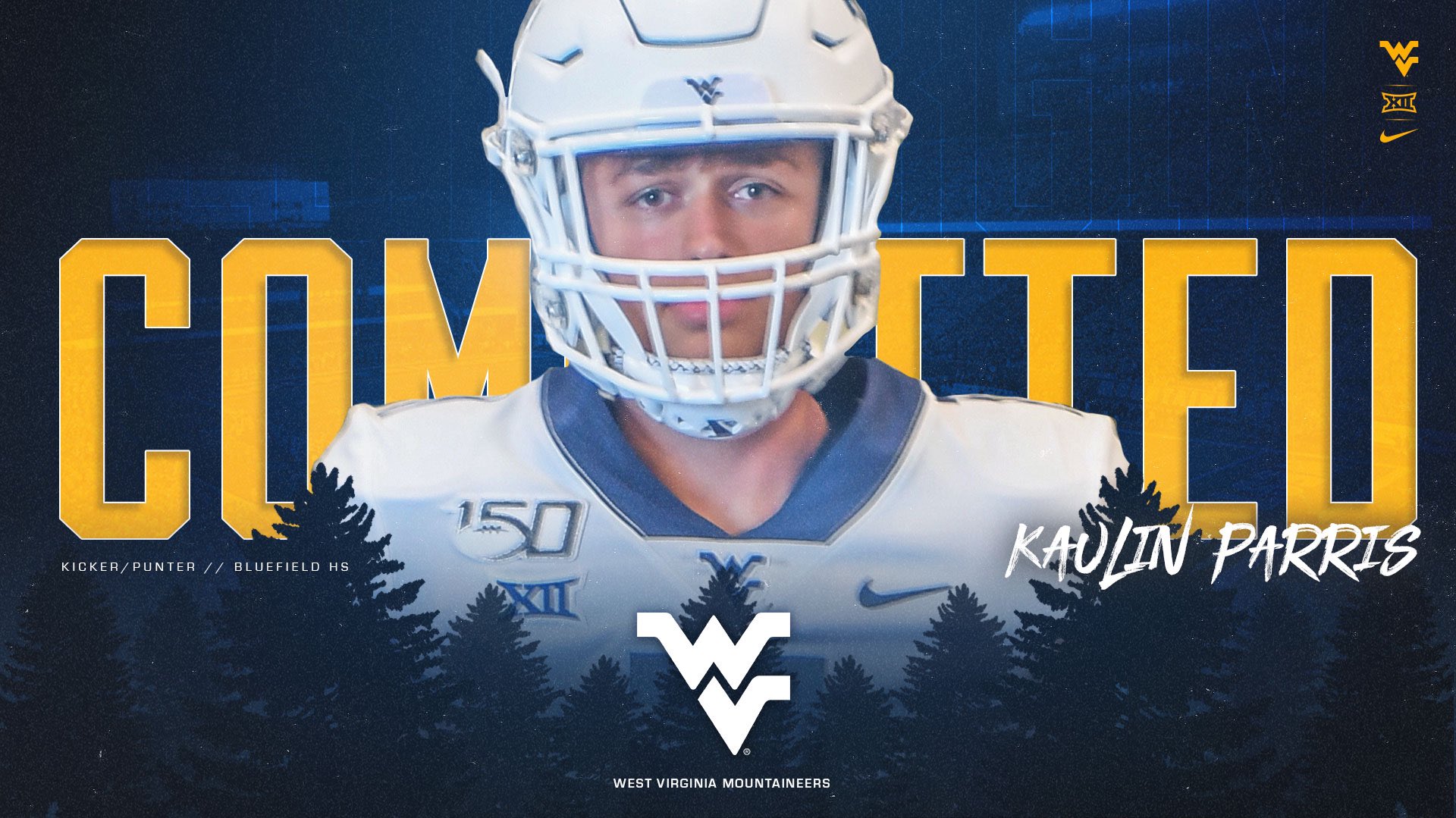 "Every time I went up there it felt like home," he said enthusiastically of the factors that shaped his decision. "The relationship with the coaches is unreal. We've talked about everything, not just football. We've talked about God, life in general, everything. The coaches have been cool and loyal, and there were no other coaches on the visits I went on like West Virginia.
"For example, on some of my other visits, I might not see the head coach," he explained. "On every visit I made to West Virginia, I would spend at least 30 minutes with Coach [Neal] Brown."
Parris also talked and met with special teams graduate assistant Mike Molinari, special teams analyst Tyler Hancock and assistant coach/special teams coordinator Blake Seiler. He credits those ongoing conversaations and the relationship that evovled from them in helping to seal the deal.
On the field, Parris plans to compete as both a placekicker and a punter. He is rated as a four star prospect at both positions by Prokicker.com, earning a pair of Ray Guy Top Prospect Awards from that organization over the past two years. As he has progressed as a kicker over the past three years, he has moved his range out to 55 yards ("I can make seven out of 10 from there").
"The weight room has played a huge factor, and going to camps, taking what they say and applying it has been the other big thing," he said of his improvement arc. "I just keep working and when I go out each day I know what I want to work on."
Parris began his football career as a ninth-grader, and his entry into the game was a bit unconventional.
"I was staying over at a friend's house, and his Dad said the only way I could stay was if I went to football practice with him. So I went, and found out that the kicker was going to be ineligible. The coach told me he knew I played soccer so he wanted me to try kicking.  I shanked a few at the start, but I got the hang of it pretty quickly."
So much so, in fact, that he's now earned national recognition.
Parris also hopes to compete at WVU as a punter, and plans to try both when he arrives next season. He's handling both jobs at Bluefield this year, where he says he is paying attention to both disciplines.
Parris had a scholarship offer from Morehead State and several Division II schools, and also had a walk-on offer from Virginia Tech. While he paid attention to those other opportunities, it was clear early on that West Virginia was the best fit for him.
"This gives me chills," he interjected during his interview with BlueGoldNews.com. "It's always been my dream to play there. I loved basketball, and wanted to play that, but I started football in the ninth grade and fell in love with it. This is just a dream come true for me."