WVU Men Open Spain Trip With Win Over Madrid All-Stars
---
West Virginia opened an early lead over the Madrid All-Stars in the first game of its Spain trip, and despite some uneven play in the second and third quarters, maintained control throughout for a 97-69 victory.
The Mountaineers jumped out to a 10-point lead in the first quarter, as they parlayed a pair of steals and some good halfcourt offense into a 20-10 lead at the end of the 10-minute period. WVU used a bit of man-to-man pressure and some halfcourt traps in the contest, but did not go with the all-out fullcourt variety of Press Virginia seen in previous seasons.
WVU's lead bounced up and down in the second quarter, with the Mountaineers pushing out to margins near 20 points, only to see the All-Stars fight back when WVU began settling for quick three-pointers rather than running the offense with more patience. After some pointed words from head coach Bob Huggins, West Virginia had an efficient stretch to close the half with a 44-30 lead.
The pattern repeated in the third quarter, as WVU, mixing and matching its lineup freely, had a pair of runs that pushed their advantage out to 18 points. The success again reversed, though, as Madrid hit a pair of threes and took advantage of some sloppy WVU play to trim the deficit back to ten. A final West Virginia push extended the lead to 68-52 at the end of the third period.
The fourth quarter was all West Virginia, as the Mountaineers scored 29 points to just 17 for Madrid. WVU's transition game, as well as excellent all-around play from Logan Routt, put the game on cruise control for the final minutes.
Emmitt Matthews led West Virginia with 17 points, while Routt added 16. Deuce McBride and Chase Harler added 14 apiece. while Sean McNeil had 11 and Derek Culver 10. Routt had eight rebounds, Matthews seven and Culver six, according to the posted box score, which had some obvious errors. For example, it credited WVU with only one blocked shot.
WVU is scheduled to play the Valencia Basketball Academy on Friday.
Dunks and Dribbles
Logan Routt was the star of the game, and not just because of his 16 points. He ran the floor with much  more ease than he has displayed at any time in his career, and was rewarded with some good passes (and a few off-target ones). He had a pair of dunks off nice passes in which he cut along the baseline and down the lane into open areas, and was also a force on the defensive end, blocking at least two shots and cleaning up Madrid misses. If he can play anywhere near this level, West Virginia could be even better than hoped for on the interior.
* * * * * *
Jordan McCabe looked to be moving OK during the game, but did not play heavy minutes. Part of that is due to the care being taken as he continues to strengthen his surgically repaired knee, but part of it also gave extended minutes to Brandon Knapper and McBride at the point. That duo had some ups and downs, with a couple of forced passes, but they were effective for some stretches. Huggins will likely be pushing them to take more control of the offense when it gets rushed and launches quick shots.
* * * * * *
There's no question Sean McNeil has a textbook shooting stroke. He hit three threes in the game, but also had a couple of forced attempts when moving the ball would have been a better choice. Those are first-year player mistakes, and ones that just about every player has to learn from and overcome. When the sophomore from Sinclair (Ohio) Community College releases the ball, though, instructional video guys are tuning in to take notice.
* * * * * *
While head coach Bob Huggins noted that the competition on this tour would be good, it was difficult to judge just how highly to rank the Madrid team. It was a savvy bunch, who featured veteran moves and passes to create shots, but it also came nowhere close to countering WVU's athleticism. The final 28-point margin wasn't indicative of how the game went. West Virginia was never in serious danger, but the hosts kept it competitive for more than three quarters.
* * * * * *
The Mountaineers wore white jerseys of the practice variety, while Madrid wore a gold and yellow combo feature the name "Summercamp" across the chest. Also on the back was an email address – how long before we start seeing hashtags on U.S. uniforms?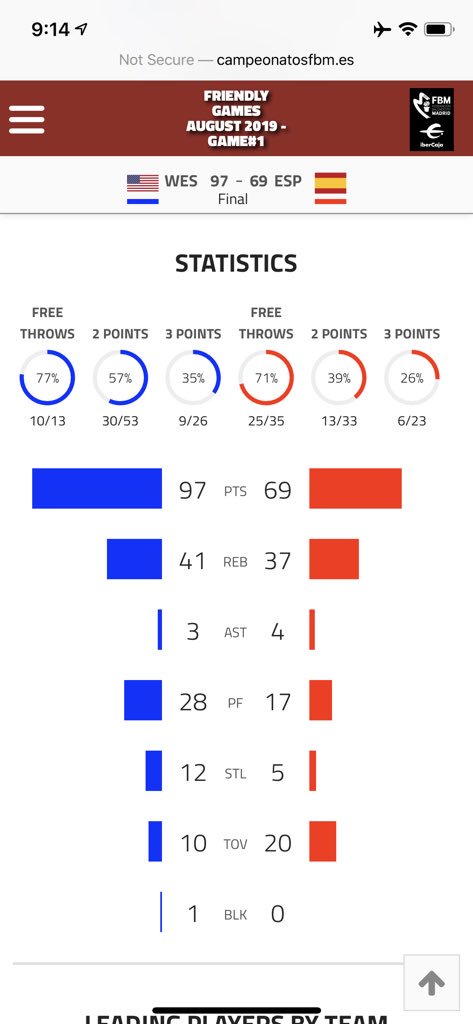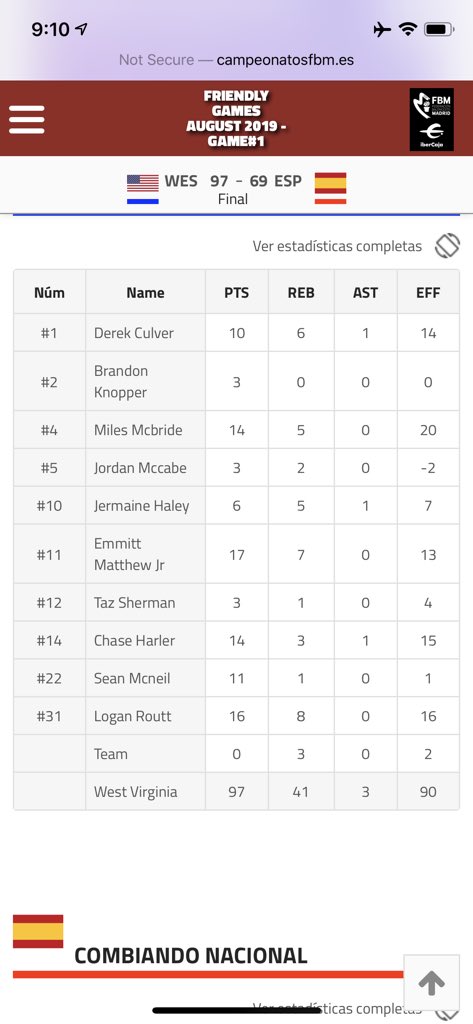 <blockquote class="twitter-tweet"><p lang="en" dir="ltr">Coach Huggins discusses today&#39;s 97-69 win over the Madrid All-Stars <a href="https://twitter.com/hashtag/HailWV?src=hash&amp;ref_src=twsrc%5Etfw">#HailWV</a> <a href="https://t.co/YrlGepdctz">pic.twitter.com/YrlGepdctz</a></p>&mdash; WVU Basketball (@WVUhoops) <a
href=