WVU-TCU Preview: Horned Frogs Down But Not Out
---
With an injury-decimated team heading to West Virginia to face a Top 10 Mountaineer squad on Saturday, the perception is that TCU won't be able to provide much opposition on WVU's path toward a potential Big 12 Championship game appearance. That's a dangerous assumption, even though the Frogs are a good bit short of the achievement levels that were forecast for them at the start of the season.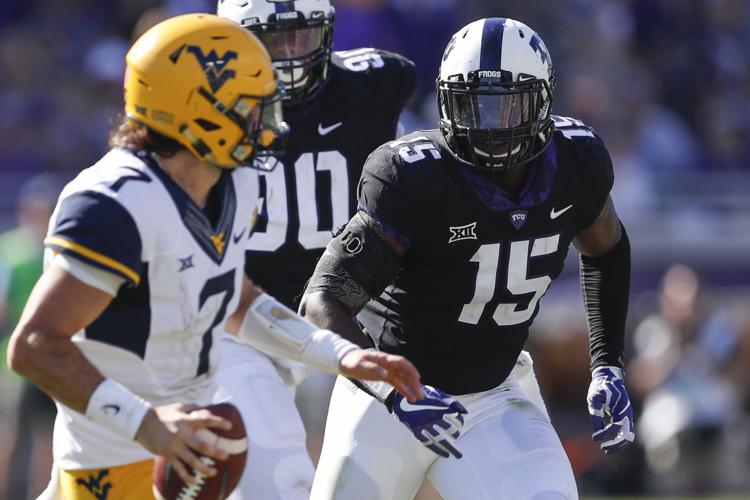 TCU head coach Gary Patterson has done a masterful job in painting this narrative, noting that some 40 players have missed four or more games this year with half that number being knocked out for the season. Included on the injured list are stalwarts such as quarterback Shawn Robinson, defensive lineman Ross Blacklock, linebacker Ty Summers and safeties Innis Gaines and Niko Small. Additionally, wide receive/kick returner KaVontae Turpin was dismissed for disciplinary reasons.
Despite all that, TCU remains plenty potent on the defensive side of the ball. The Horned Frogs have held all nine 2018 opponents below their season total offense averages. Defensive lineman Ben Banogu, with six sacks and 10 tackles for loss, gets a good deal of deserved notoriety, but he's not the only player the Mountaineers must be concerned with. Linebacker Garret Wallow leads the team with 54 stops, including 5.5 for loss, and more than a third of lineman L.J. Collier's 25 tackles have come behind the line of scrimmage.
In all, 19 Frogs have contributed to the team's 62 tackles for loss total, while nine different players have led or shared the team lead for tackles in a single game. While that speaks on one level to the number of injuries the unit has endured, it also points out the talent that exists up and down the lineup.
TCU, while still running its base 4-2-5, has used more three down linemen sets in recent weeks. Part of that is due to the injury situation, while part is also due to the cloud coverage formations that have evolved to combat spread passing offenses. These additional looks will compound the difficulty for West Virginia's blocking concepts, which saw a less-sophisticated implementation of the scheme against Texas last week. If nothing else, TCU is an assignment-sound defensive unit that limits busts in assignments or coverages.
The big picture for the Mountaineer offense: picking up all of the games Patterson unleashes with his front six, and limiting the sacks and pressure endured by quarterback Will Grier. It's unlikely that WVU will be able to totally eliminate them, but if they can hold the sacks down to three or fewer, and give him space to throw cleanly, they will probably be able to put up more points than the Horned Frogs can match.
* * * * * *
Offensively, the picture isn't as bright for the men of Fort Worth. Robinson, behind an erratic offensive line, was haphazard in protecting the ball, serving up eight interceptions in seven games. His replacement, Mike Collins, has completed only 54.6 percent of his attempts, but has been on an uptick since becoming the starter, hitting 40 of his combined 66 tries against Kansas and Kansas State. Collins' top target is wideout Jalen Reagor, who has 49 catches for 734 yards and six scores this season.
Look for West Virginia to try to take Reagor out of the picture with double teams and extra attention in pass coverage, which would force Collins to make adjustments and look elsewhere for receivers. Reagor is good enough to defeat extra defenders on occasion, and he'll be trying to extend his touchdown streak, which currently extends over the past four games.
WVU probably has bad memories of punter Adam Nunez, who last year pinned the Mountaineers like a butterfly to a specimen card. The junior placed four of his six first-half punts against West Virginia at or inside the six-yard line, forcing the Mountaineers to fight their way out of holes time and again. This year, he's sharing time with Michigan transfer Andrew David, but is still up to his old habits, having placed nine of his 17 attempts inside the 20-yard line against zero touchbacks.
* * * * * *
The Horned Frogs will definitely be in a "circle the wagons" mentality for this game. TCU still has hopes of making a bowl game, but at 4-5 overall, it has to get two wins out of its three remaining games against WVU, Baylor and Oklahoma State in order to continue its postseason appearance success, which currently numbers 18 trips in the last 20 seasons.
Assisting in that is the shared outlook and consistency of vision provided by the TCU coaching staff. Five former Horned Frog players are members of TCU's staff, and there's probably no better way of promoting and pushing the buy-in of current players than for them to hear it from those who have lived it themselves.
To be sure, this is a tough challenge for a team missing so many key players. However, with a defensive system that has shown the ability to contain high-powered offenses (including that of WVU a year ago in the 31-24 Frog win), TCU has a puncher's chance. If West Virginia gets to 30 points, the game is probably over, but that's not a foregone conclusion.