MORGANTOWN, W.Va. (WV News) ⁠— You'll pardon me if I get a little excited today.
As the University of Cincinnati, along with Houston, Central Florida and BYU, are added to the Big 12, that has me salivating.
I can almost hear the roar of the crowd come the day that Bob Huggins returns to Cincinnati, just as I can almost hear the roar of the crowd the day Dana Holgorsen returns to Morgantown.
They will be a different kind of roar. There will love in Huggins' homecoming, while Holgorsen's homecoming ⁠— should he be around Houston long enough to hear it ⁠— will be, shall we say, a bit more venomous.
Get all of our print editions with your subscription today!
See, Huggins didn't just own a house in Cincinnati. He owned the whole damn town, just as he does now in Morgantown.
He may have been born in Morgantown and played in Morgantown, but in Cincinnati, he brought back the glory days they had as the decades changed from the 1950s to the 1960s, when Oscar Robertson was playing and when a coach named Ed Jucker led the Bearcats to consecutive national championships.
His grip on that city was as tight as it is on this city, a larger-than-life hero even after Pete Rose, Johnny Bench, Joe Morgan and the Big Red Machine had moved on.
What was it like when Huggins was at Cincinnati, starting at the bottom in 1989 and going 20-15 and 18-12 in his first two years before delivering a surprising Final Four team to the faithful in a 29-5 1991-92 season?
Tim Sullivan was there then. One of many successors to me on the Reds' beat that I left after 1978, Sullivan would go on to become a columnist, moving from Cincinnati to San Diego and now headquartered in Louisville.
Sullivan was on hand when Huggins arrived to take over a scandal-ridden program not long after Gale Catlett had jumped ship to return to his alma mater in West Virginia.
He turned things around almost immediately.
"He will be treated like the conquering hero he was," Sullivan said. "The people will remember the glory days."
They always do.
"I've been gone almost 20 years, so I may not have as good a feel for that situation as others, but they have not duplicated the success they had under him," Sullivan said.
There were good years with Mick Cronin. There were good players. But Huggins is Huggins, a figure who, at Cincinnati, was at the prime of his life and enjoying every minute of it.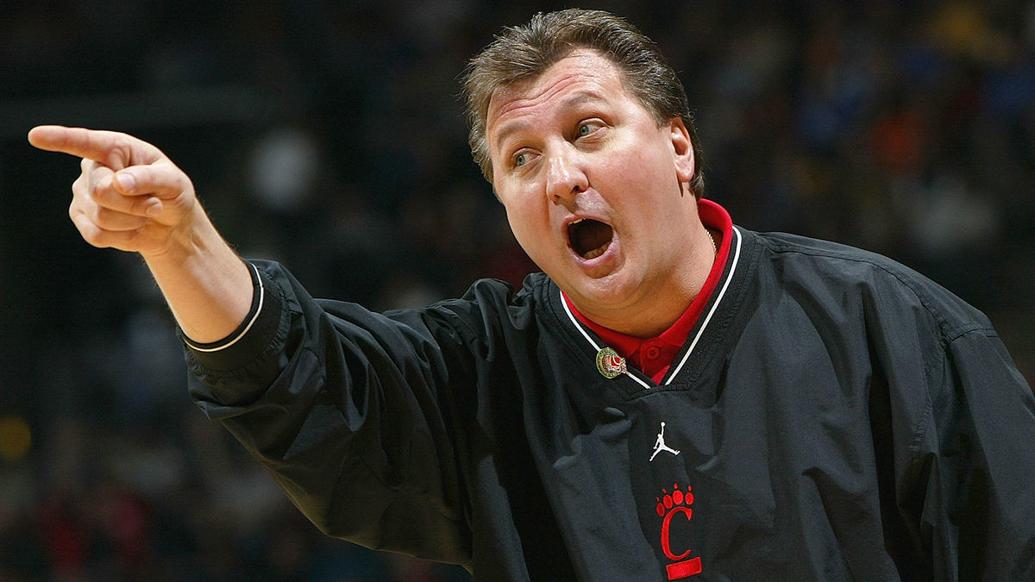 He has mellowed since then … quite a bit. And Sullivan understands that.
"He almost had to. He was running pretty hard for a while," Sullivan said.
A heart attack at the Pittsburgh airport in 2002 finally caught his attention and reined him in a little, but Huggins isn't the kind of personality that can be reined in much.
He is, of course, bound for the Hall of Fame, but doesn't yet have that national championship that would brand him an unquestioned Hall of Fame coach.
He believes it was taken from him when Kenyon Martin, the best player on the best team he ever coached, went down with a broken leg in the Metro Conference Tournament with Cincinnati ranked No 1 in the nation.
"They were a lot of fun to watch and terrifying to play," Sullivan said. "When he went down, it was the proverbial air going out of the balloon. The excitement, the anticipation … he had them performing at a really high level for years, but you get a player of that caliber with all the other pieces they had, that was their shot. It was their turn."
And much as Huggins had DaSean Butler go down to a savage knee injury late in the national semifinal game against Duke in 2010, the championship ring was put on someone else's finger.
So close in both those years. As much as it hurt at WVU, Huggins to this day believes nothing could have stopped his Kenyon Martin team if he had stayed healthy.
"I think a lot of people would agree with him," Sullivan said. "You get close and have the kind of team that could win it all. I'm sure that has gnawed at him for decades now."
When Cincinnati joins the Big 12, it will have a real rival in the conference, and that should ease a lot of the pain the Bearcats have felt since the Big East collapsed.
Huggins just hopes, however, that his first game as a Big 12 rival against Cincinnati will go better than his first meeting after after coming home to West Virginia.
That was Jan. 30, 2008, and it was his own floor when the Bearcats came into the Coliseum and humbled their former coach, 62-39. That is not a typo.
WVU scored 39 points, only 16 in the entire second half, making just 10 field goals all game and going 1 for 22 from 3-point range in what well may be the worst performance ever in the Coliseum.
But like Huggins, who wound up being run out of Cincinnati by school president Nancy Zimpher, nearly causing a fan rebellion, the defeat did not erase the memory of Huggins, and he was able to build upon it, his reputation even better than when she pushed him out the back door.
"He's obviously rebounded pretty well," Sullivan said.