WVU's Huggins, Rhode Island's Cox At Opposite Ends of Experience Spectrum
---
The head coaching match-up in Sunday's Air Force Reserve Basketball Holiday Showcase is of the classic veteran – newcomer variety.
On one side is Rhode Island's David Cox, who is in his first year at the head of the Ram program after serving as an assistant under previous head coach Danny Hurley for four seasons. Prior to that, he was an assistant at both Rutgers and Georgetown, but this is his first stint in the big chair. Opposite him sits Huggins, who is in his 38th season in charge of a collegiate program.
The two will pit their teams against each other in an atypical December Sunday match-up at the Mohegan Sun Casino in Uncasville, Conn. The event is one of a number of contests and tournaments presented by the Naismith Memorial Basketball Hall of Fame, which is located a hour's drive north of the game location.
While their backgrounds are completely different — Huggins with his mostly mid-Atlantic roots while Cox hails from Washington, D.C., and the East Coast Metro region — both speak of the importance of the history of the game.
"It's important that you know the history of the game," said Cox of playing a contest under the umbrella of the highest basketball Hall of Fame in the land. "Knowing that and the evolution of the game, and what made great players on and off the floor. Me in particular, I have watched a lot of basketball, I came up in Michael Jordan era, and to me he is the greatest. Not only his talent and production, but because of competitiveness."
While Huggins didn't hear Cox's words, he echoed them.
"I think it's important for our players to understand the history the game," he said of West Virginia's visit. "We played in one of the first ones in Springfield when I was at Cincinnati. We have three former players in the Hall of Fame, and I was fortunate enough to be there when (West Virginia great) Rod Thorn went into the Hall of Fame."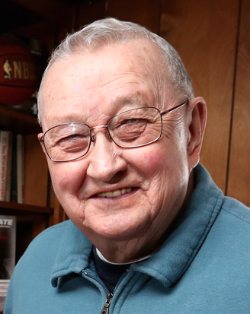 Cox grew up watching D.C. area legends such as Georgetown's John Thompson and Maryland's Lefty Driesell, mentioning those as coaches that had influenced his development. Huggins had a lengthier list befitting his veteran status, but it started on the local level.
"My dad is in every Hall of Fame there is in the state of Ohio," Huggins said of his father Charlie, who won three state titles and 394 games against just 74 losses. "Listening to him talk to other coaches and playing for him for four years in high school, I learned so much from him. A lot of the things we do today I learned from him.
"Then there's Ed McCluskey (career record 590-153) who won state championship after state championship in Pennsylvania, who became sort of like my grandfather."
That's just the prep version of the list, and it's impressive enough. Add in the giants of the collegiate game and it becomes, well, a Naismith Hall of Fame list.
"I have been blessed to be around some of the great coaches in the game," Huggins said, repeating the phrase several times. "Al McGuire. Coach (Hank) Iba. Coach (Pete) Newell. (Jerry) Tarkanian. (Charlie) Spoonhour. I've just been blessed — that's all I can think to say about it."
The two teams will square off at 1:00 p.m., with both needing the win to help build momentum for their respective upcoming conference campaigns. West Virginia is 6-3 overall, while Rhode Island is 4-3. Both teams are coming off a pair of wins last Saturday. The Mountaineers downed Pitt in the Backyard Brawl, while Rhode Island bested Holy Cross.